"I wanted to make the difference, and inspire students, giving all young people the chance they deserve."

Craig Gooding, Melbourne (study by distance)
Bachelor of Education (Primary)
Not having the greatest schooling myself, I never felt like I was truly inspired by teachers. I wanted to make the difference, and inspire students, giving all young people the chance they deserve.
I heard about the University of Tasmania through my own research. Being a mature aged student with bills coming in, I needed the flexibility to be able to work and study. I had the opportunity to study at a great University, but in my own time and structure my education around work and family commitments through studying via distance.
Teaching was my passion; I had worked in schools as an integration aide and OSHC coordinator. I knew I wanted to teach, it was then a case of finding the university that suited my needs.
I am currently working at Mont Albert Primary School, in Melbourne Victoria. My work involves teaching and being part of an amazing school and culture. This is led by a fantastic leadership team- the schools culture is fantastic, where I can freely express myself as a teacher using the skills I have developed through studying at the University of Tasmania.
My plans for the future are to continue to develop myself as a teacher. I want to practice the skills I have learnt and offer fantastic opportunities to the students I am responsible for educating. In the future my ambition is to move through the ranks all the way to the top. My aim one day is to be in a position to make decisions about education and the way it is shaped in Australia.
Some of the highlights of my time at the University of Tasmania are the friends and contacts made along the way, the supportive learning environment and being able to laugh and have fun with most units on the way to my qualification.
My advice to future students would be to keep going- if you work hard you will get to where you want to be. Allow time to breath. Friday nights are a good time to put down the books and relax with family and friends.
And don't forget- keep smiling!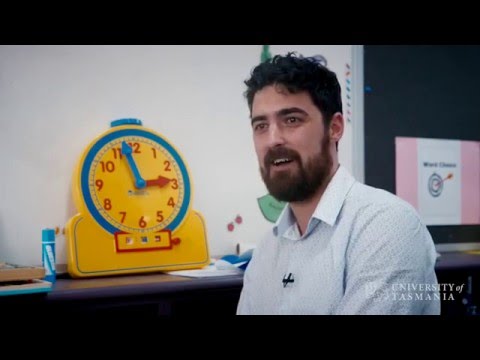 Teaching - It's where I'm at my happiest