I loved all of the special interest subjects, like learning about music and fine arts.
Bachelor of Education (Primary)
Both my parents had degrees, and most of my friends parents thought they would go to Uni…I guess I just assumed that was what you did after year 12. I always wanted to go to University as I have always loved learning new things and I thought of it as a way to continue my Education, rather than a career pathway. It sounds strange to say that! I was the first in my family to attend University, but my younger sister is now also attending. I'm a local Launceston girl, and I didn't want to move away for University. I wanted to build connections with new people but stay close to home. My older cousin studied a Bachelor of Education at UTAS while I was still in high school, and she really enjoyed it, so my decision was an easy one.
When I first started I was really nervous about going to University. I was worried that I wouldn't be clever enough, or I wouldn't be a good teacher on my pracs. I would tell anyone considering it that if you are passionate about the profession, than obtaining a bachelor of Education is much less stressful than you might think. I loved all of the special interest subjects, like learning about music and fine arts. They're too things I'm really passionate about in Early Childhood education. I enjoyed these aspects of my degree so much that I took my Children's Services girls to UTAS twice for sessions with Bill Baker. He was absolutely fantastic and my students got so much out of these sessions. When I think back on it now, the academics job is such a difficult one. Teaching a room of future teachers as they silently critique everything you do would not be easy. I'm grateful that I got the chance to see so many different approaches to teaching, I found that aspect of my degree so helpful. I always really enjoyed being a student at UTAS, I felt like it had a really supportive family vibe. I met some really wonderful people during my time there. I found the practical aspect of my studies much more rewarding than the academic assignments. For my 2nd, 3rd and 4th year pracs, I received the highest possible mark for every criteria. Because of this I received congratulatory letters in 2006, 2007 and 2008. My third year prac at Exeter Primary School started my love of Kindergarten teaching. I was allowed much freedom in the planning and implementation of their programme and I absolutely loved my time here. I completed my 4th year prac at Class One, East Villa School, in Port Vila, Vanuatu. My internship in Vanuatu was easily one of the best experiences I have ever had in my life, and UTAS helped me to organise it. I had never been out of Australia before, and when we arrived at our accommodation the room I was staying in was full of spiders the size of my hands - I don't think I have ever missed home so much! But I bought some bug spray and toughed it out and I'm so glad I did. Vanuatu is the most beautiful place, and I even saw a real volcano erupting! Teaching somewhere completely different is such a rewarding and valuable experience. I took picture books and art supplies over with me to donate to the school and the children just loved them. I have never taught a happier class in all my years teaching since; their positivity helped me to believe in myself more and I am so much a better teacher for having this experience.
When I graduated I wanted to be a kindergarten teacher. Since I graduated I've done a fair bit! I worked for two years at Glen Dhu Primary School on a kinder/prep than a prep/one straight out of uni. Then I moved to London for 2 years and worked over there. I was a Kinder teacher at a school in St. John's Wood in Westminster. This is one of my favourite teaching posts so far - it was pretty surreal taking a group of kinder kids with English accents to London zoo on an excursion! It's so multi-cultural there, I learned so much about so many different beliefs and cultures. I also loved how passionate they all are about Early Years education they are in the U.K. as I share this passion myself. When I returned from London I was back at Glen Dhu for a term on a Kindergarten class and leading their Launching into Learning program. I was then at the Launceston Preparatory School for a year as the English, SOSE and Philosophy teacher of the Prep/One group. After that I had a term at Mowbray Primary school on Kindergarten and Launching into Learning again. I'm currently teaching Certificate II in Community Services (with a focus on Children's Services) at Newstead College; I basically teach a group of 16-18 year old girls how to work with young children. My girls are interested in a career as Childcare Educators or Family Day care workers. I lead a theory session once a week, organise placements for them, and run a playgroup with them once a week. I was terrified of working with young adults after having a career almost exclusively with the complete other end of the education spectrum, but I truly felt that I had so much to offer this course after all of my different experiences in Early Childhood. I absolutely love my job, I really enjoy writing the assessments and running the theory sessions. I love the challenge of presenting content in engaging and interesting ways. I also obviously love running the playgroup sessions, it stops me from missing Kindergarten teaching so much! UTAS helped me realise that I really did love teaching and could be successful at it too. Being given the opportunity to complete placements with the grade I wanted to teach the most was so valuable, and so was being given the opportunity to complete my internship overseas. Both these things really helped me to gain confidence.
I'm in the process of trying to make the Children's Services course the best it can possibly be. I think that the future of our children is so important, and the reality is that most children do end up in child care centres or with family day carers for at least some of their first 5 years of life. It is therefore paramount that we produce industry professionals of the highest quality, who are stellar role models and who are informed and truly place importance on diversity, creativity, child development and early years education. One of my role models is Claire Warden. I love the way she has such strong beliefs about a child's connection to the natural world. I was lucky enough to attend a professional development session on this subject, I would love to start a "nature" kindergarten in Tasmania like they have in the U.K.
My advice to any future Education students would be to not to worry if you don't get a job straight after graduating, and not to worry if your experiences have been all over the place. I really stressed out about my resume making me look bad – there are so many schools on it for somebody still so young. But there is no way that I would have the job that I have now if I hadn't have had all of those different experiences; they made me the teacher that I am today and were highly valued when I went for job interviews. Basically just get experience whenever and where ever you can!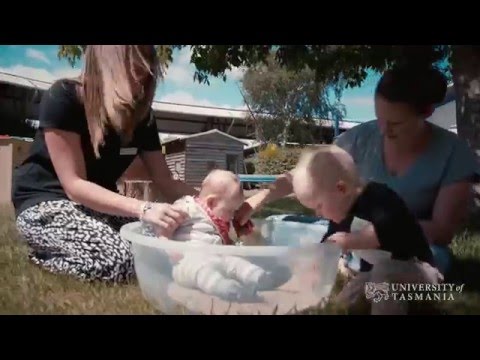 Teaching is a rewarding profession