It's an occasion that truly brightens up our Tassie winter: 1270 graduands have donned their caps and gowns in four mid-year ceremonies at Hobart's Federation Concert Hall.
This year, the University was celebrating two significant new groups of graduates. The first 84 Tasmania Police graduates from the Associate Degree Arts (Police Studies) course, and Australia's first graduates of the Bachelor of Dementia Care.

Fifty-six police officers completed the Associate Degree as new recruits, with a further 28 current serving officers completing the course as part of their professional development.
Through a partnership with the University, Tasmania Police are the only officers in Australia given the opportunity to align their careers with the Bachelor of Social Science (Police Studies). All recruits must complete the Associate Degree as part of their recruit training, and then have the opportunity to complete the full degree qualification throughout their career and promotion path.

Hobart Constable Caleb Wilson (pictured with his daughters Molly and Evie and his wife Heather) said he was pleased to receive his Associate Degree.
"It's good to be finished and to receive some recognition for the work you do," he said.
University of Tasmania Vice-Chancellor Professor Peter Rathjen said it was inspiring to see the importance placed on higher education by Tasmania Police.
We are proud of our partnership with Tasmania Police. The University is a deeply ingrained part of the Tasmanian community and that comes with a responsibility we take very seriously, Professor Rathjen said.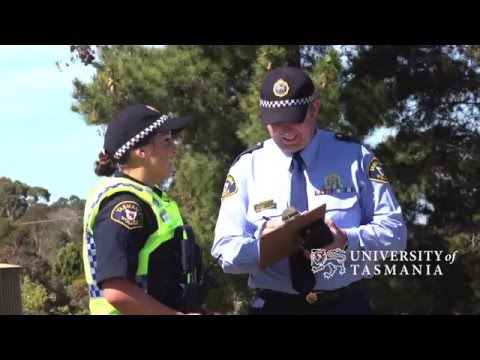 "These new graduands are examples of how the University's work supports and strengthens our State.
"The partnership is producing police officers who not only have strong operational skills, but also have further professional qualifications, giving them new ways to think and understand the communities they serve."
The partnership is also attached to the internationally recognised Tasmanian Institute of Law Enforcement Studies (TILES), formed by the University and the Tasmanian Department of Police, Fire and Emergency Management (DPFEM).
The Bachelor of Dementia Care is Australia's first degree in dementia care and a flagship degree of the Faculty of Health's Wicking Dementia Research and Education Centre. The fully online course is available to domestic and international students, ranging from carers to health professionals, and is aimed at developing specialised knowledge and helping graduates make a difference to the lives of people living with dementia.
Graduate Suzanne Teague, who used her retirement to study for her degree, said it was a rewarding and practical achievement.
I enjoyed the course and as well as gaining new knowledge I found out a bit more about myself, she said.
"I am aiming to eventually undertake the Bachelor of Dementia Care Honours program and in the meantime, if there is a part-time employment opportunity where I can help those with dementia or their families, I will consider that option," she said.
In addition to the new Bachelor graduates, the Wicking Centre has a growing Dementia Care alumni cohort, including 16 Associate Degree and 96 Diploma graduates. 
Launceston's winter graduation ceremonies will be held on Saturday 20 August, taking the total number of graduands this round to more than 2000.