Kim Lee Chang is trying to improve the quality of life in society through a particular stream of science called biotechnology.  
Biotechnology is the application of biology. It refers to how we use the biological process of microorganisms for application purposes.  
"I remember the areas of biotechnology by using three words: food, fuel and heal," said Kim Lee. 
"Food produced to provide for the people or adapted for people, like seedless watermelon. Fuel relates to energy or renewable energy. And heal, being the application of the biology to things like genome sequencing. 
"You can study to become a genetic expert or you can choose a more hands on project, like helping industry."
We're developing an innovative approach to micro-algae cultivation: trying to use the waste oil growing on microalgae to produce oil. In particular we want to create a renewable source of bio-fuel to replace crude oil, and create Omega 3 oils for human consumption.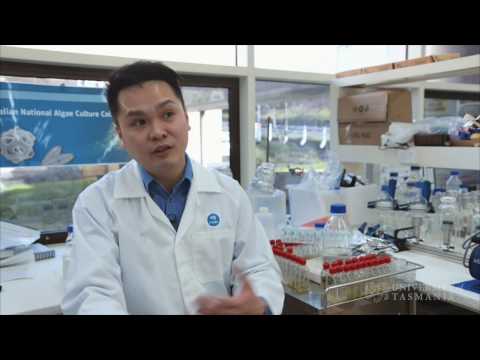 "If we can use microalgae for biofuel, it will be beneficial for sustainability purposes, by recycling nutrients and capturing carbon dioxide. But it will also be good for the economy. It would generate a new industry in Australia." 
Kim Lee said that the impact and outcome of the research is really rewarding. 
It makes you feel like you are doing something good for society. That's what drives me to keep doing what I do.
Kim Lee, who came from Malaysia to Tasmania to study biotechnology in 2003, said that Tasmania is the ideal location to study in this field.
Tasmania is unique. There are a lot of international scientists here. It has the Australian Antarctic Division, the University and the CSIRO. We get a lot of good scientist exposure here.... and it's also a nice place to live! I'm lucky to be here.
Kim Lee is a microbiologist at the CSIRO Tasmania, home of the Australian National Algae Culture Collection – an internationally significant and unique resource of biodiversity. It contains living cultures of more than 1000 micro-algae strains. The collection supports vital research, like that of Kim Lee, that explores the type of properties micro-algae have and determines if they could benefit society. 
You get a lot of good networking. When you know who is doing what and you know how to tap into those resources, you can get incredible benefits for your career and research.
"Working at the CSIRO is really exciting – for me it is the place to be." 
I'm discovering new things every day. Hopefully those discoveries can apply to society, which is what we aim for. If we can provide more Omega-3 oils we can improve everybody's health and the benefits of replacing crude oil with a sustainable alternative are well known.
Kim has successfully produced the oils, but the cost of production currently makes the oil too expensive to replace existing oils. 
Kim Lee is hoping to attract more funding and industrial linkages to commercialise this technology so that the price of micro-algae derived bio-fuels can be reduced. 
"The University of Tasmania provides great opportunities. It has excellent researchers and facilities. And, you have a very personal relationship with your lecturers and supervisors because of the high lecturer to student ratio."
What can you study in biotechnology?
Biotechnology has been around for 6000 years. It is a very broad term. Likewise, the Bachelor of Biotechnology covers a broad range of subjects.
At the University of Tasmania there are five streams of biotechnology study to choose from:
         Fermentation science

        Food safety

        Genetics

         Medical Chemistry

         Plant biotechnology
Which one will you choose to change the world? 
How to follow in Kim Lee Chang's footsteps
Kim Lee studied chemistry, biochemistry, botany, and zoology during his undergraduate degree. He then carried on to complete Honours with a focus on food microbiology (food safety).
After he graduated, Kim Lee Chang worked for two years at the University as a research assistant. 
"From that I picked up a lot of skills: how to isolate different micro-algae for bio-discovery, bio-prospecting purposes. This has really helped me with my career."  
Enrol in a Bachelor of Biotechnology online, or contact the call centre for more information or support: 1300 363 864.