The combination of design flair and technical skills gained through the Bachelor of Environmental Design at the University of Tasmania has seen Christine Green land her dream role. Just 12 months into her first job and she is the lead Interior Designer for Melbourne based architecture and design firm Ascui and Co.
Ascui and Co Architects specialise in boutique style buildings – predominantly multi-residential apartment buildings of 20-50 apartments. They also work on town houses, high-end homes, and occasionally, hotels, retail and commercial buildings.
This is an amazing opportunity. I think I'm really lucky to be where I am. Every day is different, which is exciting.
Director of Ascui and Co. Gonzalo Ascuii can't speak highly enough of Christine's combination of skills.
"Since we're a small firm of 13 employees, everyone has to be multiskilled. We wanted someone that had interior design flair, was technical and personable –it's very important to be able to convince clients of your design ideas.
"We could see that Christine had a strong passion for design, but to our great joy she could also contribute to the production of drawings.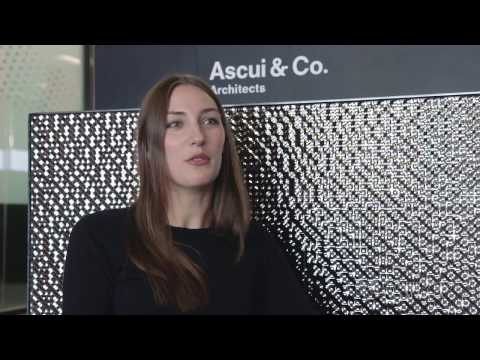 Christine was able to contribute from day one. It's not what we normally see in a graduate. It gave us great confidence in her abilities.
Gonzalo said that in Melbourne, most apartments are sold off the plan, so there is a strong focus on the interior design of projects.
Good designers succeed in our industry, because they become rarer and rarer as they become more accomplished – the value of a good designer is very important to a firm.
Christine said that the skills she learned at the University of Tasmania are integral to the work she does every day at Ascuii and Co.
One of the greatest things about studying at the University of Tasmania is that they have a really strong learning through making program.
"You learn a lot about the technical aspects. I didn't realise how good that was until I got this job.
It was such an asset to be able to get going on day one, without any prior experience.
Christine may be working on anywhere from 5-20 design projects at any one time.
"They will all be in different stages – some in design, some in construction. It's really exciting to see something come from an idea to paper and then be built."
Christine said that the Bachelor of Environmental Design has a strong focus on practicality, concept design, and sustainability. 
I learned at University to build your concept first. If you do that then every decision that you make afterwards that makes sense – it's stood me in really good stead.
Christine also said that practicality is one of the most critical things in interior design.
"Especially in apartments! You have to think about finishes and the look, but also the practicality of how they are going to be used. These are people's homes so it's a big responsibility."
When Christine started Environmental Design at the Inveresk Campus, she said it just felt right.
The creativity really suits my personality. Interior Design was something that I had always wanted to do, but I didn't know what to expect of the career. Now that I'm here, it's better than I expected. I really enjoy coming to work everyday.
What does a 'day' in the life of Christine look like?
Christine's job involves:
Coming up with a concept

Finding inspiration and deciding where the design should 'go'

Deciding on colour schemes and materials

Presenting her designs to the client

Design adjustments, following client feedback

Documenting and detailing the design
"At uni I wasn't so interested in documenting designs, but I actually love the nitty gritty now. I like finding out how something will actually work."
Christine also meets with a lot of product reps and specifiers, consults with the architects and Directors every day, does a lot of research, attends a lot of events and keeps an eye on what the competition is doing.
"Its important to keep an eye on what is going on out there and to see what products are about."
How to follow in Christine's footsteps
Enrol in a Bachelor of Environmental Design.
Apply online or contact the call centre for advice.
"I loved the culture at UTAS and the Inveresk campus. It is a really tight knit community and there is always someone there to help you. I really enjoyed the campus and the building as well, it was a really creative space and it was a lot of fun."