It sounds simple, but it is one of the most innovative and extensive research projects ever conducted into tourist travel. It has created an enormous amount of interest locally, nationally and internationally. And it's no wonder - the impact of the research in academic and on industry has been far-reaching and significant. 

Anne Hardy, Senior Lecturer in the Tasmanian School of Business and Economics (TSBE) at the University of Tasmania said it is the largest study of its type in the world, covering an entire region and following tourists for 14 days.
"The longest period of time that tourists have been tracked in the past is 1-2 days. People are concerned about their privacy, which is understandable. As a result we've been very dependent on paper-based surveys and people's recollections about past travel, which is really unreliable. So, we've had to make assumptions about where different types of people go."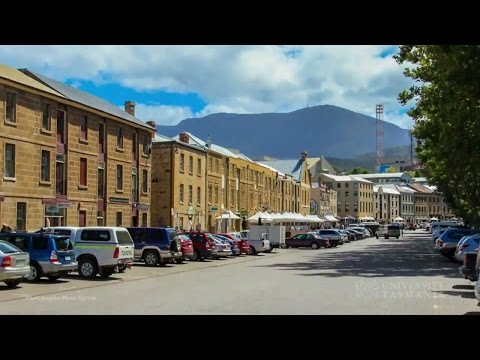 The research team developed an innovative approach that tracked travellers using a smart phone. They designed an app, complete with surveys to understand the people travelling, and utilized the GPS technology of the smart phone to track their movements around Tasmania for the duration of their travel.
"This is real time, it's accurate down to 10 meters, and the detail of data is just tremendous. The ability of the data to myth bust by providing concrete knowledge is so valuable." 
"We went to the tourism industry and asked them what they wanted," said Dr Hardy, "and they said 'we want to know where people go.' We needed to have a technical solution to that question." 
Daniel Hannah, Director of Corporate Affairs, at the Federal Group*, said that this is an exciting project that will give Tasmanian tourism operators a jump on their competitors. 
"If you can get the edge by having a better understanding of the place that you're operating in, a better understanding of your customers, and of the environment in which you are operating, you're well placed for future success.

We've always known a little bit about our visitors, but we haven't got down to the fine-grained information. The University, through Sense-T, clearly had the capability to provide insights that were critical for industry and for government to make decisions.
"This information is going to allow us as a state to understand our visitors probably better than anywhere else in the world."
Dr Hardy said that they didn't realize just how useful the breadth of the results would be across the entire tourism sector. 
As time went on we realized that we could understand how people use infrastructure, that we could test the success of marketing campaigns, and that we could understand what drives decisions. For example, if the weather is terrible on the East Coast, we know what the impact of that is on the tourism industry." We also know what the risky aspects of tourism are – like who is driving late at night, and who is taking long day trips.
The large interdisciplinary team included a tourism specialist, a GIS specialist, a policy specialist, a project manager, a statistician, a Chinese tourism expert, an economist, a sociologist and an expert in social media. The research also engaged the university's diverse student body.
 "The students were critical to bringing the travellers onboard. The students could communicate with people from their culture to allay their fears about privacy and explain the value and the significance of the research objectives," said Dr. Hardy.  
They were very successful recruiters! As a result, we tracked 472 people including international visitors, Australian visitors and Chinese visitors.
The research team's next task is to determine how to make the research methodology cheaper, so that it is sustainable on an ongoing basis. They also want to continue to explore opportunities for digital solutions to research.
The project is funded by Sense-T, which is a partnership between the University of Tasmania, the State and Federal Government and CSIRO. Sense-T brings together researchers, industry, government and the community to create innovative solutions to real-world problems using data, sensing technologies and data analytics. Sense-T are currently involved in more than 20 research projects across a range of sectors in Tasmania.
 *The Federal Group is the oldest continually operating hotel group in Australia and Tasmania's largest private sector employer.