Did you know greenhouse cultivation is a relatively new practice of food production in Australia?
PhD candidate Dianfan Zhou is going to help bring our country up to speed.
"I recently started my PhD in UTAS' School of Land and Food and my project is focused on opportunities for greenhouse vegetable production in Australia."
This project is supported by the ARC Training Centre for Innovative Horticultural Products.
"The main point of this project is to investigate innovative horticultural products in the whole food supply chain.
In my project I'm looking at the environmental and economic impacts of greenhouse horticultural production system. I will be collecting data on food production and looking at environmental and economic performance.
"The population will be growing rapidly in the next 15 years, so there will need to be an increase in the amount of food required to feed us."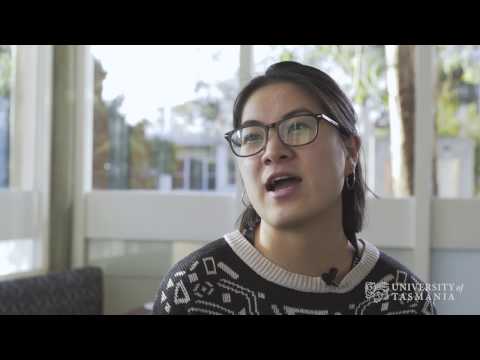 Dianfan said there's a lack of research about greenhouse production in Australia, and there are concerns about the environmental impacts and the quality of the food grown.
"At the moment Australia is still in a developmental stage, adopting technology from European countries and the infrastructure."
Dianfan completed her Masters degree in The Netherlands because "the Dutch are doing very good greenhouse horticulture."
"This study will give government policymakers an idea about greenhouse production and how to control their energy consumption, and how to identify the major contributors to environmental load and energy consumption.
"Before the large expansion of this cultivation takes place, we really need to obtain strong evidence about everything, such as food quality and environmental impact."
Part of Dianfan's PhD will involve speaking directly with farmers and collecting data from farms and glasshouse farms on energy and resource consumption and production.
In the short term the goal of the research would be to help the producers and retailers to obtain the social license to operate this kind of a product produced from greenhouse cultivation to get the confidence from Australian consumers.
"I will collect all the data to analyse the environmental and economic impacts by modelling study, from different geographic locations in Australia. They can then be used to seek strategies of mitigating the emissions, or find a more sustainable solution to expansion of the glasshouse production in Australia.

"The findings will also be used for looking for suitable locations in Australia for greenhouse farming," she said.

"The benefits-based model will give retailers an idea of whether it's valuable to invest in greenhouse production in Australia.

Dianfan said the research would be useful for producers to inform how they make decisions about greenhouses in Australia.
It's also part of my work to assess the problems of the greenhouse production that happened in other countries in previous development. Then we can avoid those problems in Australia, she said.
"This project is applied science; it's very important to communicate with people outside the scientific world, like industry and consumers."
Dianfan said some greenhouse growers were already innovating.
"I know one high tech glasshouse in South Australia in Port Augusta which is fully powered by solar, and they use desalinated sea water. It's kind of a renewable energy greenhouse.
"Seeing producers using the resources available is really exciting."
Dianfan said she wanted to study in an English-speaking country "because it'd be good for my English."
And Australia, especially Tasmania, is a really nice place to do plant science, and you've got opportunities to explore the natural beauty.
"I recently started bushwalking. I've been on several like Wineglass Bay and Mt Field or Mount Wellington et cetera.
When I came to Hobart I was surprised by the local people. They are so kind and so nice. It's still like home.
"I got a really warm welcome from my colleagues in this research group and they introduced me to everything," she said.
"I still remember in the first few weeks my supervisor introduced me to everyone in that building and I thought, yes I really like this work environment."
Make a difference to the future of society. Start your own research degree at the University of Tasmania. Find out more here.