Surveyor and PhD candidate Anna Riddell is helping us to answer these big questions.
After some time in industry, she has returned to the University of Tasmania to investigate vertical land motion and how the Australian tectonic crust is moving in space.

It's one of the fastest moving plates if you look at it horizontally. It moves at around seven centimetres per year, she said.
"But vertically there is a problem. Historical data suggests that it should be uplifting by about a millimetre per year, but the data that we've got suggests it's sinking. So there's a conflict."
Anna's research is trying to solve that conflict, which is vital for future sea level estimates.
We can measure things that change at a millimetre per year, so we've got some pretty good gear here at the University of Tasmania.
As an undergraduate, Anna studied a Bachelor of Surveying and Spatial Sciences. In her Honours year, she researched sea level extreme events at Macquarie Island, which included a 10-day expedition on the Aurora Australis.
Post-Honours, Anna took up a 12-month graduate position at Geoscience Australia (GA), the national mapping agency, which then led to a permanent position.
Her career has taken her around Australia, and all over the world – to China, Los Angeles, Germany, and Vienna. And just five years out of University she has already helped to draft a United Nations resolution that was recently adopted.  
It was a University lecturer's presentation at her college that sparked Anna's interest in spatial sciences.
"He told us that spatial sciences apply to everything. He challenged us to name a career, and then he explained how spatial sciences related to it.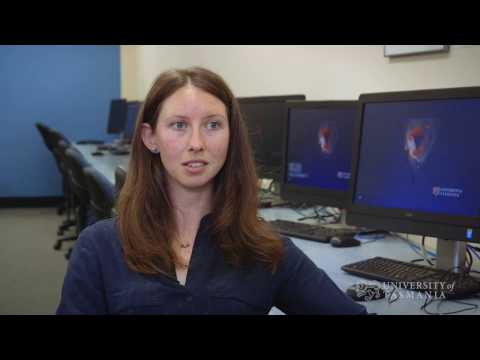 Because of that, it gives you an opportunity to travel. That's what got me hooked. Working outside and travelling a lot interested me, she said.
"It also gives you the flexibility to change your mind. There are so many opportunities, so you don't have to know what you want to do. Choosing this field doesn't close any doors - in fact, it opens more."
Anna said that being a UTAS graduate has been pivotal to her career success.
That's what got me the job at Geoscience Australia. Being a surveyor from UTAS holds quite a lot of weight. In fact, the majority of surveyors at GA are from UTAS.
"There is a lot of practical training in the degree, and every time you go out, you are either using a different instrument or learning a different technique," she said.
The degree at UTAS gives you the ability to walk straight into a surveying firm and hit the ground running.
Surveying and Spatial Sciences graduates are qualified to move into a whole range of diverse careers. Find out what exciting opportunities await. Study a Bachelor of Surveying and Spatial Sciences at the University of Tasmania. Apply online, or get in touch with us here.