Tyler Richardson fronts a successful Tasmanian punk band, but his next big gig takes place on a very different kind of stage.
Tyler has now graduated with a Bachelor of Education (Applied Learning) degree and is connecting with a new audience.
I've managed to fit in studying and working and touring. It's been pretty full on.
"I've was working the full year prior to graduation as a teacher on a limited authority to teach," he said.

In the 18 months before graduating, his band Luca Brasi, which hails from St Helen's on Tasmania's east-coast, has been in unprecedented demand.
We've were on tour for the past three or four years and I was in Europe in the back of a van trying to finish an assignment on the way to a show using the wireless off someone's phone.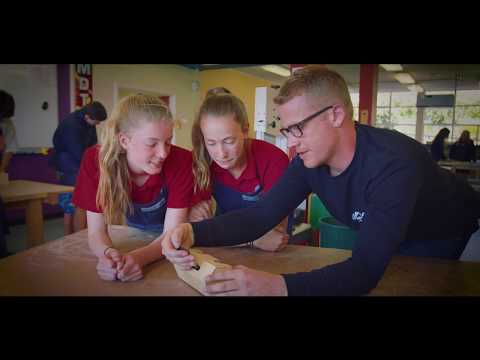 "The biggest offering for me has been the ability to study online. It's been awesome to be able to do that and dip in and out, whether I'm home or away," he said.
It's been an unconventional pathway into teaching for Tyler. The qualified boilermaker-welder always knew he wanted to go to university, but "fell into" an apprenticeship.

"I come from a trade background so it was a logical choice for me when I realised I wanted to get into education to look at an applied degree," he said.
Tyler also received recognition for prior learning due to his trade qualification, and appreciates how the applied learning degree allows him to keep his manual skills up to date, and pass on his trade knowledge in a classroom environment.
The course is flexible, and the lecturers and course supervisors are so quick at getting back to you when you need them.
"It's been a good lifestyle choice," he said.
Become the teacher you want to be with the University of Tasmania's professionally accredited and nationally recognised Bachelor of Education (Applied Learning).