Most people are scared of public speaking, but for Daniella Phillips it's one of her favourite parts of her degree.
"I wasn't sure of what I wanted to do going in to Uni. I chose Law because I enjoy getting up and speaking in front of people," she said.
Daniella also studies Business as part of her Bachelor of Business/Bachelor of Laws but admits she fell in love with the Law side.
"Over the years I've started to realise that I really enjoy the content of Law.
It's very interesting. We learn things that people aren't going to know unless they study the course, and I find that quite interesting and helpful.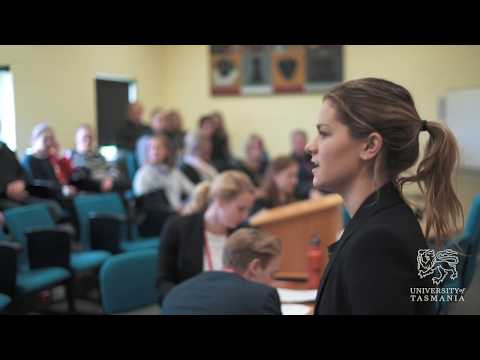 "I'm able to share my knowledge with people and people are actually interested in it. The law affects everyone."
Daniella said the Law School is a great place to learn, with "awesome opportunities."
The Law School in UTAS is really great. The lecturers and staff that we have are fabulous. Some of their textbooks are taught at every Australian uni, and we're lucky enough to have the author of said textbook actually teaching us on a daily basis.
"Some of our lecturers give guest lectures internationally, whereas we have them every week teaching us, and that's an awesome experience."
For Daniella, the focus on practical learning alongside theory means her studies are engaging as well as informative.
"UTAS is very practical. We have about three or four subjects where you are required to do the practical activities more so than the theory. I was never one for essays and research, I much prefer the practical side of things," she said.
Having UTAS focus so much on that practical side of things really helped me to thrive in that environment.
Make your voice heard. Apply now to study Law: http://www.utas.edu.au/courses/study/law