When Kelsey Thomas finished Year 12 she thought the only way succeed was to leave Tasmania.
"I left Tassie with the intention of going to Melbourne to get my degree because that was the misconception – that you needed to go to Melbourne to get a good degree and get jobs.
"As I kept coming home to visit family I realised that really wasn't the case and I moved back," she said.
My experience at UTAS was completely different to the university I went to in Melbourne. The lecturers are so accessible, they'll email you back. I remember lecturers and tutors Skyping on the weekends, doing anything they could to help you out.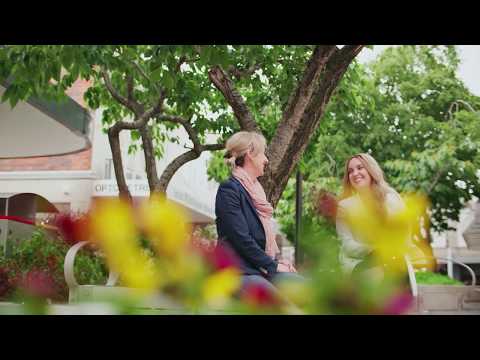 Kelsey enrolled in the Bachelor of Business at the Launceston campus and didn't look back. One of her study highlights was completing a Corporate Internship. This program gives business students a taste of life in the workplace while they gain practical experience.
Kelsey's internship project was managing Cityprom's Winterlicious campaign, a three-month festival bringing together retail, professional services, and hospitality business to activate the city centre.
For Kelsey, the internship experience really paid off.
Through my internship and the connections I made there I met with the creative director at S Group and literally got my job through that internship.
"I actually hadn't even graduated and got to come straight here and step into a marketing advisor role with the experience that I gained from Cityprom."
Living and working in Launceston is the perfect fit for Kelsey.
I love that Launceston is so accessible. It's a regional hub but just half an hour down the road you're in the bush, or you're fishing in a river, or you're at the beach, or you're climbing a mountain.
Staying local hasn't meant Kelsey only works on local projects. Launceston is Australia's first city to have a gigabit NBN connection breaking down the barrier of distance and allowing businesses in Launceston to work with clients anywhere in the world.
"I have clients who are movers and shakers in that industry, and they see Launceston being the next Silicon Valley which is really exciting. Launceston is so well connected and I feel like it's on the cusp of a lot of change."
Dr Gemma Lewis is a Senior Lecturer in Management in the Bachelor of Business in Launceston and would love to see all her students take up opportunities like the Corporate Internship program.
"It's fantastic to see students like Kelsey graduate, find work locally, and then become active members of our business community."
"In 2019 we're introducing a new accelerated study mode for the Bachelor of Business, exclusive to the Launceston campus," she said.
"A significant part of this will be greater opportunities for our students to actively connect with the local business community through not just internships, but also guest lectures, live case studies, business mentoring, and networking."
All of this will help our graduates to be as work-ready as possible, and like Kelsey, get started in the workforce as soon as they graduate.
Sound exciting? Find out more about studying Business and Economics.
Moving from interstate to study business? We offer a relocation bursary .