The personal stories of people who become carers for their life-long companions, and how they respond and experience the shift, have been captured in a new University of Tasmania project.
The Sharing is Caring project compiled stories of family members who are providing care for a loved one who is living with dementia.
Researchers met with sole carers in New South Wales and Tasmania over a seven-month period to co-design a written narrative about their caregiving experiences, and video record their reflections on their role as a carer.
"It's an extremely personal experience for someone to be caring for a loved one with dementia," Dr Sharon Andrews from the University's School of Nursing said.
"Carers can have a mixture of experiences which can be isolating, challenging and rewarding and we wanted to capture a carer's thoughts and reflections in their own words."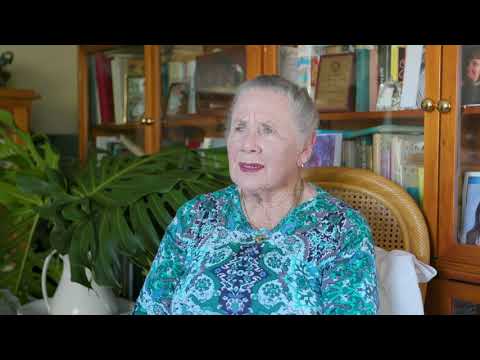 Dr Andrews' career spans nearly two decades, having been involved with the ageing and aged care sector as a researcher and registered nurse.
Dementia is fast becoming known as the public health concern of the 21st Century, with the number of people with dementia across the world increasing every year.
"We also wanted to understand how telling stories can help carers find meaning in their role and what we started to see as these stories developed was how the ordinary becomes extraordinary.
"Those events or interactions that were once taken-for-granted by the caregivers, as just every day ordinary events, like the person with dementia saying 'I love you' or sharing a joke with the carer, become much more extraordinary events as the person's dementia progresses." Dr Andrews said. She found documenting a carer's story and experiences also helped to create a broader understanding for extended family members.
"The power of these three stories is that they provide a small window into the nuance of everyday experiences of caring for a family member which even other family members of that family may not have access too," Dr Andrews said.
"The son of one of the caregivers emailed me after he watched the video and to say thank you, and how grateful he was that we had captured his parents' story. His mother was living with dementia, and his father was caring for her. The son said the story provided special insights about his father as a caregiver, and his parents relationship - insights which he would not have otherwise had."
Stories and videos from the Sharing is Caring project are available at Sharing is Caring.
Dr Andrews was joined by Professor Fran McInerney and Dr Helen Courtney-Pratt from the University's Wicking Dementia Research and Education Centre for the project.
The initiative was funded by the University's Community Engagement Scheme and conducted in partnership with Clarence City Council (Tasmania) and Kiama Municipal Council (New South Wales).