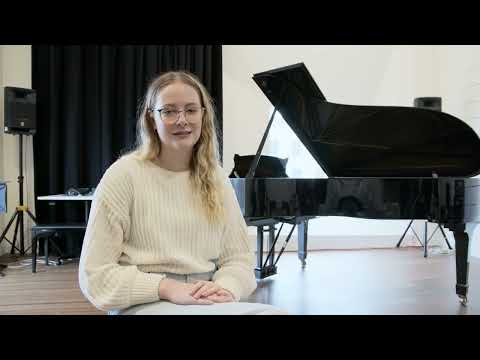 The nature of work is changing, with today's university students likely to have multiple careers over their lifetime. So it makes sense that many students are enrolling in two degrees at once to build knowledge and expertise in separate study areas.
It's a choice that has the benefit of increasing their career prospects and maximising their employability.
Four students enrolled in the Bachelor of Music are a good example of this – dividing their time between the Hedberg in the Hobart CBD and the Sandy Bay campus, where they all study in the Sciences.
After thinking long and hard about where to go to University, Simon Ramirez, of Dubbo in central NSW, chose Hobart over Sydney. He is a bass trombonist for the Tasmanian Youth Orchestras and is studying a Bachelor of Music in the classical stream and a Bachelor of Science, with a major in Physics.
"I thought about it all through my gap year – it was a big decision - and then I decided I wanted the adventure lifestyle, so I chose Hobart.

"There are great programs here. It was a no brainer in the end.
"I did a gap year in 2021 and couldn't travel because of COVID, so I set a goal to try as many things as possible. I had four jobs and did a whole bunch of things. I realised that I don't want to end up in one thing forever, I want to be able to swap over from one thing to another.
"So after university I'm planning to continue with both science and music."
He says that even though Music and Physics are completely different, "I do both better because I'm doing the other one."
Liam Mei, of Hobart, and Emily Swanson, who has moved from Devonport, are both studying for a Bachelor of Music and play classical piano. For both, Music is their passion, but in terms of a career they want to keep their options open. Emily is also enrolled in a Bachelor of Science (Chemistry) and Liam in a Bachelor of Information and Communication Technology (Artificial Intelligence).
Jasmine De Marco, who plays classical double bass, couldn't decide between a Bachelor of Music and a Bachelor of Natural Environment and Wilderness. She was unable to choose both courses in Melbourne, so moved to Hobart to pursue both.
Double degrees are popular across the university, with some of the most popular being Arts/Laws, Arts/Science, Business/ Laws, Arts/Business and Science/Engineering.
Pictured: Emily Swanson, Liam Mei and Jasmine De Marco at the Hedberg.