Overview
2021
Duration

Entry requirements
Location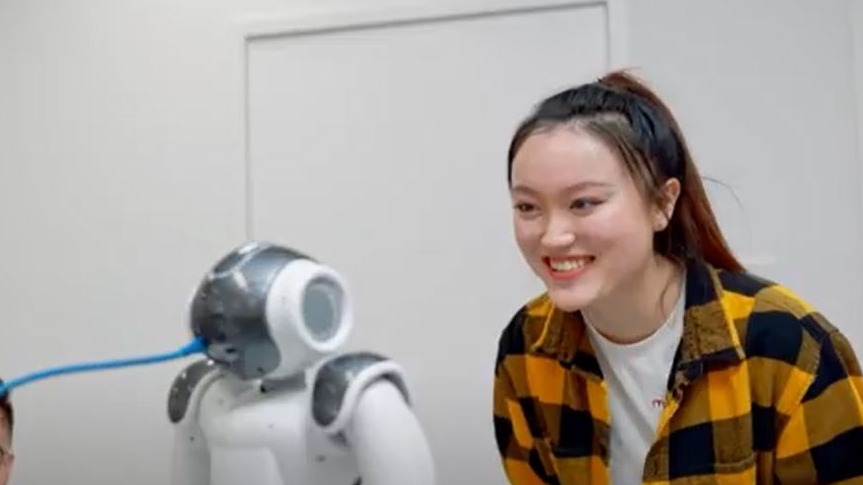 "I feel like the support from the University either personally or from the University in general is really great. I have an accounting background and thought maybe it's good to have some kind of IT background to compliment my accounting experience, so I can go more into the career path way I want to pursue as a Business Analyst"
Due to the ongoing response to COVID-19, online study may replace some or all of your on-campus classes. We'll be sure to keep you informed of any changes.
The Master of Information Technology and Systems (MITS) provides a wide breadth of knowledge of varying aspects of information technology (IT) and information systems (IS). The MITS provides students with a previous tertiary qualification in any discipline area with the knowledge, understanding and skills to enable them to deal effectively with advanced issues involving IT and IS.
The MITS provides non-ICT students with broad knowledge and understanding of fundamental information and communication technology concepts and principles. It also enables all students to select significant areas for in-depth study, from a range of advanced IT and IS areas, to provide students with knowledge, understanding and experiences that transcend technologies and are robust over time so that students are well-placed to deal with ongoing, rapid changes in the IT and IS fields.
Studies in the various advanced areas of ICT allow students to develop a professional, responsible, self-reflective and critical attitude to the practice of ICT.
Note: Students who commenced this course prior to the current year should refer to the Course and Unit Handbook archive relevant to their year of entry, e.g. 2019.
MITS graduates should be ICT professionals with the abilities and skills to:
adapt and apply techniques for acquiring, converting, transmitting, storing, managing and analysing data, information and knowledge;
select and effectively apply processes, methodologies, tools, research skills and techniques to analyze, model, develop, and manage ICT products and services;
explain and adapt appropriate ICT to support business processes and decision making to help an organisation achieve its objectives;
evaluate and communicate the likely utility of emerging or advanced ICT to an individual or organization;
apply abstraction and critical thinking to a problem, identify and define the ICT requirements, apply knowledge of advanced ICT principles and technical skills to develop and evaluate strengths and weaknesses of potential solutions.
MITS graduates should acquire attitudes needed by an ICT professional to:
be an effective team member;
take initiative and work independently;
communicate effectively at a professional level;
continue lifelong learning; and
adhere to codes of professional conduct and practice.
The MITS provides an optional opportunity for high achieving students to qualify for higher research
Career outcomes
This course is an effective means of opening up new career possibilities in a broad range of ICT fields. Graduates will have the knowledge and skills to solve complex social, economic and technical problems within the context of information and communication technology.
All students study core units in information technology and information systems, developing fundamental skills and knowledge of communication technology. Students can choose a career stream for in-depth study of information technology and systems.
Career Streams
Big Data Management and Analytics
Living in a data-driven world, there are huge volumes of information generated through technology use and automation. Develop the capacity to derive meaning from data through learning a range of skills in data analytics, data management and data processing.
Information Systems and Management
The rapid growth of the use of information systems by businesses and governments has revolutionised how we do business. This career stream focuses on the use of information and analytical tools to model, analyse, understand and design information systems. Equip yourself with practical skills in mobile, web and cloud computing. Learn how data can be manipulated to meet the information needs of users and develop application systems which use web interfaces, databases, cloud computing, and Android and IOS platforms.
Mobile, Web and Cloud Computing
Equip yourself with practical skills in mobile, web and cloud computing. Learn how data can be manipulated to meet the information needs of users and develop application systems which use web interfaces, databases, cloud computing, and Android and IOS platforms.
Networks and Embedded Systems
Computing networking is a growing industry where large and small organisations need networking knowledge and skills to protect their computer systems. You will be given the opportunity to develop both theoretical and practical skills in network security, embedded systems and ICT systems.
Graphics and Games Development
Learn the processes and technologies used to develop games and interactive systems. Develop your practical skills to design, model and program game technologies. Gain experience in industry-leading technologies, tools and languages including VR/AR technologies.
Logistics and Enterprise Systems
Wanting to expand your business knowledge and develop your technical skills? This career stream will develop your skills in managing enterprise architecture and systems, supply chain logistics and relational database management systems.
Interactive Technology
The expansion and reliance on digital technologies in a range of entertainment and business environments have created a demand for professionals who understand social and participatory design. This career stream offers a mix of theory and practical skills to design technologies which are user-centred and considers the design, development and implementation of these technologies.
Software Design and Development
Do you want to learn how to code? This career stream develops your programming skills to engineer mobile, networked, multicore and web-based software systems. Learn the best practices for designing, developing, implementing and testing software solutions.
ICT Research
ICT research is significant in developing efficient and effective technologies that can be applied in several industries. Learn to undertake research with integrity and in a rigorous manner through developing research knowledge, skills and tools. Students will work with a supervisor to undertake a research project and produce a thesis document.
Professional Recognition
The MITS has full, professional-level accreditation from the Australian Computer Society (ACS). This endorsement recognises that the degree, which was recently redeveloped in consultation with the ACS, is responsive to the current and future needs of the ICT industry. Graduates of the MITS are eligible for membership of the ACS.
Course structure
The normal duration of the MITS is 2 years. MITS candidates will do the equivalent of at least twelve 12.5% units, and up to sixteen 12.5% units, based on their existing qualifications and experience (see Entry Requirements).
Students who qualify for the 12 unit MITS can choose to do an accelerated program over 1.5 years, or they can complete the degree over 2 years by successfully studying 3 units a semester for 4 semesters.
Degree structure
All students will complete three level 500 foundation units (KIT501, KIT503, KIT506).
You will then complete the equivalent of at least eight ICT 12.5% units listed in the schedule at level-700, which must include KIT713.
The remaining units must be taken from level 400, 500, 600 or 700.
On completion of four ICT postgraduate (level 400 or 700 only) units the candidates can choose a career stream: (1) Big Data Management and Analytics; (2) Information Systems and Management (2) Mobile, Web and Cloud Computing; (3) Networks and Embedded Systems; (4) Graphics and Games Development; (5) Logistics and Enterprise Systems; (6) Interactive Technology; (7) Software Design and Development; or (8) ICT Research.
All students must do ICT Research Principles (KIT714). Then candidates can complete up to four postgraduate units (level 400/500/600/700) from ICT to make up their career stream or select an elective from any other discipline (e.g. Business, Science etc.).
To be admitted to the research stream students need a distinction average over four ICT level-400 or 700-units. Candidates in the research stream must do ICT Research Methods 25% (KIT701), and a research dissertation over two 25% units (KIT702, KIT703). Students in the research stream can only complete one elective from ICT or another discipline.
Entry requirements
16 unit masters (2 years)
Bachelor Degree from accredited tertiary institution.
12 unit masters (1.5 to 2 years)
To qualify for a 12 unit MITS, you must currently hold a Bachelor degree in an ICT-related area, or a Bachelor degree in any discipline and a Graduate Certificate/Diploma in an ICT-related area covering at least the fundamental knowledge of software design and programming, computer networks, web system development, and database technology.
Students who do not hold a Bachelor or Graduate Certificate/Diploma in an ICT-related area will be required to complete a 2-year, 16 unit masters.
Fees & scholarships
Domestic students
Domestic students enrolled in a full fee paying place are charged the Student Services and Amenities Fee but this fee is incorporated in the fees you pay for each unit you enrol in. Full fee paying domestic students do not have to make any additional SSAF payments.
Detailed tuition fee information for domestic students is available at the Domestic Student Fees website, including additional information in relation to a compulsory Student Services and Amenities Fee (SSAF).
Domestic students enrolled in certain postgraduate coursework programs may not be eligible for student payments through Youth Allowance and Austudy. Visit the Department of Social Services website to find out more about eligibility for Centrelink support and the list of eligible courses
Scholarships
Domestic Students
Each year, the University offers more than 900 awards to students from all walks of life, including: those who have achieved high academic results, those from low socio-economic backgrounds, students with sporting ability, students undertaking overseas study, and students with a disability.
For information on all scholarships available at the University of Tasmania, please visit the scholarships website.
Applications for most awards commencing in Semester 1 open at the beginning of August and close strictly on 31 October in the year prior to study.
International students
There are a huge range of scholarships, bursaries and fee discounts available for international students studying at the University of Tasmania. For more information on these, visit the Tasmanian International Scholarships (TIS) website.
How can we help?
Do you have any questions about choosing a course or applying? Get in touch.
Domestic

International

Email

Online
Next steps