Overview
2021
Duration

Entry requirements
Location
Hobart

Launceston
Due to the circumstances around COVID-19, you will begin your studies online. However, when Government guidelines change, on-campus studies will be reintroduced.
The Bachelor of Information and Communication Technology is a specialist degree covering Information Technology (IT), Computer Science (CS) and Information Systems (IS) with both a theoretical and practical focus. It develops technological understanding and skills that are in high demand world-wide, plus builds project management and other business soft-skills that make you an ICT professional.
You'll develop knowledge and capabilities in communication, design, development and management and learn what it takes to implement and integrate ICT within an organisation. You will also complete a hands-on project that gives you real-world experience and professional networking opportunities before you start your career.
You will graduate with the skills and knowledge to grow into leadership positions; the drive to act on entrepreneurial ambition; and the confidence to pursue research and graduate studies.
Career outcomes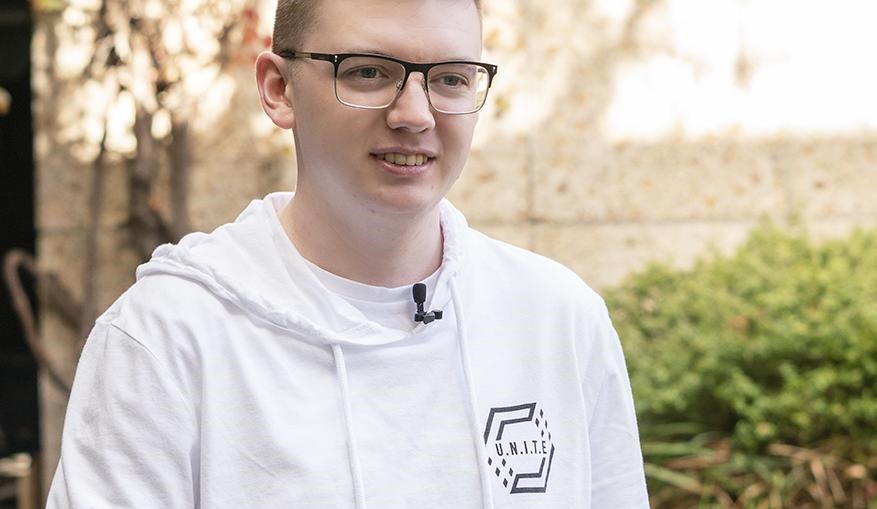 "With the University's help, I managed to get an internship at a game development company called Giant Margarita.

It has been my dream since I was a little kid, to get a game development job, and thanks to Uni, I finally managed to get that, and I want to keep doing that for as long as I can."
Information and Communication Technology is a core function of industries all over the world. It contributes to everything from maintaining a company's daily operations, to eScience, productivity gains, innovation, expansion, and job growth. This gives you truly global job opportunities, allowing you to forge a great career wherever your interests take you.
This is a career that rewards professionals who can take initiative and work independently, and rewards those who can multi-task and adapt. It is great for people who like to lead, as well as those who like operating in a team environment.
Career Opportunities with ICT
Graduates often enter technical positions, such as software programmer, network administrator, systems or business analyst, and web design/development. These allow you to apply your skills and knowledge while building on the industry experience already gained from your time studying with us.
Technical roles progress to management and leadership positions, typically with 3-5 years' experience, setting you up in a career for life that goes wherever you want it to. These include project management, business analyst, testing/network/systems manager, database administrator, security specialist, and much more.
Postgraduate study
If you successfully complete this course, you may be also be eligible to apply for a range of other postgraduate courses including Graduate Certificates and Graduate Diplomas and Masters by coursework and research. Filter the course list on the Computing and IT study theme page by Postgraduate to view the current courses available.
Professional Recognition
The BICT has full, professional-level accreditation from the Australian Computer Society (ACS). This endorsement recognises that the degree is responsive to the current and future needs of the ICT industry. Graduates of the BICT are eligible for membership of the ACS.
Course structure
2021 details are currently being updated.
Eight) majors will be available:
Business Analysis
Cybersecurity
Data Science
Games and Creative Technology
Software Development
Artificial Intelligence
Computer Science
Geospatial Information Systems
Entry requirements
Fees & scholarships
Domestic students
Domestic students enrolled in a full fee paying place are charged the Student Services and Amenities Fee but this fee is incorporated in the fees you pay for each unit you enrol in. Full fee paying domestic students do not have to make any additional SSAF payments.
Detailed tuition fee information for domestic students is available at the Domestic Student Fees website, including additional information in relation to a compulsory Student Services and Amenities Fee (SSAF).
International students
2021 Total Course Fee (international students): $99,244 AUD*.
Course cost based on a rate of $31,950 AUD per standard, full-time year of study (100 credit points).
* Please note that this is an indicative fee only.
International students
International students are charged the Student Services and Amenities Fee but this fee is incorporated in the annual rate. International students do not have to make any additional SSAF payments.
Scholarships
Scholarships for domestic students
Each year, the University offers more than 900 awards to students from all walks of life, including: those who have achieved high academic results, those from low socio-economic backgrounds, students with sporting ability, students undertaking overseas study, and students with a disability.
For information on all scholarships available at the University of Tasmania, please visit the scholarships website.
Applications for most awards commencing in Semester 1 open at the beginning of August and close strictly on 31 October in the year prior to study.
Scholarships for international students
There are a huge range of scholarships, bursaries and fee discounts available for international students studying at the University of Tasmania. For more information on these, visit the Tasmanian International Scholarships (TIS) website.
How can we help?
Do you have any questions about choosing a course or applying? Get in touch.
Domestic

International

Email

Online
Next steps