Grace Birchall has won the prestigious University of Tasmania, Faculty of Education Teaching Excellence Award at the 2019 Tasmanian Young Achiever Awards and was presented onstage by Professor Karen Swabey, Dean & Head of School - Faculty of Education, University of Tasmania.
With over 200 nominations, Grace Birchall won the Award from a strong field of young achievers.
The winners were announced on Friday 31st May at Wrest Point, hosted by Jo Palmer, News Presenter, 7 Tasmania.
Over 380 guests gathered from across the State including official guest The Honourable Will Hodgman MP, Premier of Tasmania to celebrate our high achievers.
Grace Birchall, 24 of SHEARWATER is a compassionate teacher. She teaches English, Geography and Dance at Ulverstone High School. During lunch hours, Grace teaches students who wish to dance outside normal class schedules, and coordinates song and dance performances in a community theatre. During weekends, Grace teaches persons with Down Syndrome at the Bright Stars Troupe, helping to release their inhibitions and perform at community functions. She attends professional development opportunities, continuously seeks feedback about her teaching capabilities and is always the first to implement different classroom strategies. Grace provides an inviting environment, empathises with her individual students and implements mindfulness in her room.
The nine category winners are:
Grace Birchall, 24 of SHEARWATER - University of Tasmania, Faculty of Education Teaching Excellence Award
Alex Morris Baguley, 28 of LESLIE VALE - Colony 47 Transition to Work Award
Campbell Remess, 14 of ACTON PARK - Heather & Christopher Chong Community Service & Volunteering Award
Elias Solis, 29 of NEW TOWN - Spirit of Tasmania Tourism and Hospitality Award
Karita Casimaty, 29 of MOONAH - TADPAC Print Service to the Disability Sector Award
Zac Romagnoli-Townsend, 25 of NUBEENA - Dental South Aboriginal and Torres Strait Islander Achievement Award
Matthew Etherington, 23 of SANDY BAY - St.LukesHealth Healthier Communities Award
Samuel Watson, 18 of ULVERSTONE - First National Real Estate Leadership Award
Daniel Watkins, 23 of GROVE - Motors Tasmania Sports Award
Matthew Etherington was later announced as the 2019 Premier's Young Achiever of the Year.
Winners each received $1,000 thanks to prize patron Axsys, along with a magnificent trophy. Matthew Etherington received an additional $2,000 from the Tasmanian Government and a State trophy.
Campbell Remess was also announced as the Axsys People's Choice Award winner and received a Fitbit Ionic courtesy of Axsys.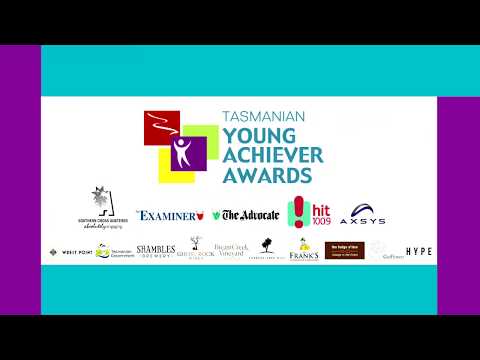 Published on: 05 Jun 2019 4:20pm