What is Asian Studies about?
What do soap, umbrellas, wheelbarrows, paper, silk, and PlayStation have in common? They were all invented in Asia – home to some of the world's most ancient, modern, and influential civilisations.
Asia is important: strategically, culturally, economically, and politically. Most of the world's main religions began here. And now it is the region strongly shaping the 21st century.
Asian Studies begins with broad introductory units on history, popular culture, and politics in Asia. You could learn about the Silk Road, struggles for independence in India, or surprising early connections between Australia and Asia. Later year units allow you to follow your interests in learning about particular countries or topics such as media, food, or cities.
Become a global citizen with unique skills, knowledge, and inter-cultural insight into this dynamic and complex region. You could volunteer overseas as part of your studies, too. Add Asian Studies to your degree and graduate with the kind of Asian literacy that gets you noticed by employers.
"It's the diversity that makes Asia such an exciting region. And Asian Studies reflects that. There's something for everyone including those who seek a challenge and have a sense of adventure."
Mastering the art of storytelling
Bridget explored the Japanese cultural response to the Fukushima nuclear disaster as part of her Honours in Asian Studies. As a recipient of Australia's most prestigious scholarship, she's headed to an Ivy League university in New York City to study her Masters in Journalism.
Why study Asian Studies with us?
We are passionate about Asia and passionate about teaching. We think that all students should include some study of Asia in their degree to not only prepare them for the future but to also help them understand the huge changes that are occurring in our part of the world.
You do not have to study an Asian language to study Asian Studies, but why not give it a go? Indonesian, Japanese and Chinese are available.
Becoming 'Asia literate' (learning something about Asia) will help you both understand and benefit from the growing importance of Asia by helping you extend your skills set. Plus, learning about Asia is interesting, challenging, and fun.
Opportunities to do some of your studies overseas. You can intern at a non-government organisation in any country in Asia and count that towards your qualification. Or study overseas from one week to one year in countries including Japan, China, Indonesia, India, Thailand, Cambodia and Nepal. Scholarships available.
What careers relate to Asian Studies?
Asia is home to more than half the world's population, so developing strong Asia-knowledge can significantly enhance you employment prospects and provide greater opportunities to work internationally. Asia Studies graduates are highly valued in the fields of government, policy analysis and commerce, as well as in the finance and service industries. Previous graduates have moved into journalism, diplomacy and trade.
Become an effective global citizen with a better understanding of the fundamental changes taking place in this dynamic region of the world. Demonstrate you have developed skills in intercultural understanding, communication and team work, independent research and leadership – all skills sought after by employers anywhere.
Advocacy and counselling
Arts and heritage
Communications and public relations
Education
Linguistics
Finance
Foreign relations and international aid
Healthcare and healthcare ethics
Historian
Interpreter or translator
Journalism and publishing
Law
Manager in private and public enterprises
Marketing and advertising
Politics and public policy-making
Psychology
Public health and welfare
Researcher
Trade and foreign exchange
Tourism and travel operator
Writer
How can I learn about Asian Studies?
Asian Studies is part of the Global Cultures and Languages program. Our units are coded HMA (Asian Studies) but we also include many relevant units from other parts of our program and from across the university. For example, HMC Chinese, HMJ Japanese, HMN Indonesian.
In first year, you will complete HMA101 Discovering Asia and either one unit of an Asian language or one unit developing your intercultural competence. At the intermediate level, you will complete HMA255 Asia: Key debates and controversies. You can choose the rest of the units for your major from the list of electives.
Remember, you can also take any Asian Studies units as electives which means that you can add relevant and interesting units to your degree in Business, Media, Social Science, Education, and so on.
Interested in studying with us? Explore our course and research opportunities below.
Each course and unit is linked to its own page with more detailed information and entry requirements on the Courses & Units website.
Your learning experience in Asian Studies goes beyond the lecture and tutorials.
You will be taught by experts, and gain perspective from guest lecturers and forums; gain a competitive advantage with real-world experience prior to graduation; study abroad for a fortnight, a month, a semester or a year, as part of your degree; have options to complete your studies your way, whether on-campus, online, part-time or full-time; pursue your passion or specialisation with a range of scholarships, bursaries and financial assistance programs, or meet your career goals with our pathway options.
Watch: Ogoh-ogoh - Procession and the Burning, Hobart's Dark Mofo Festival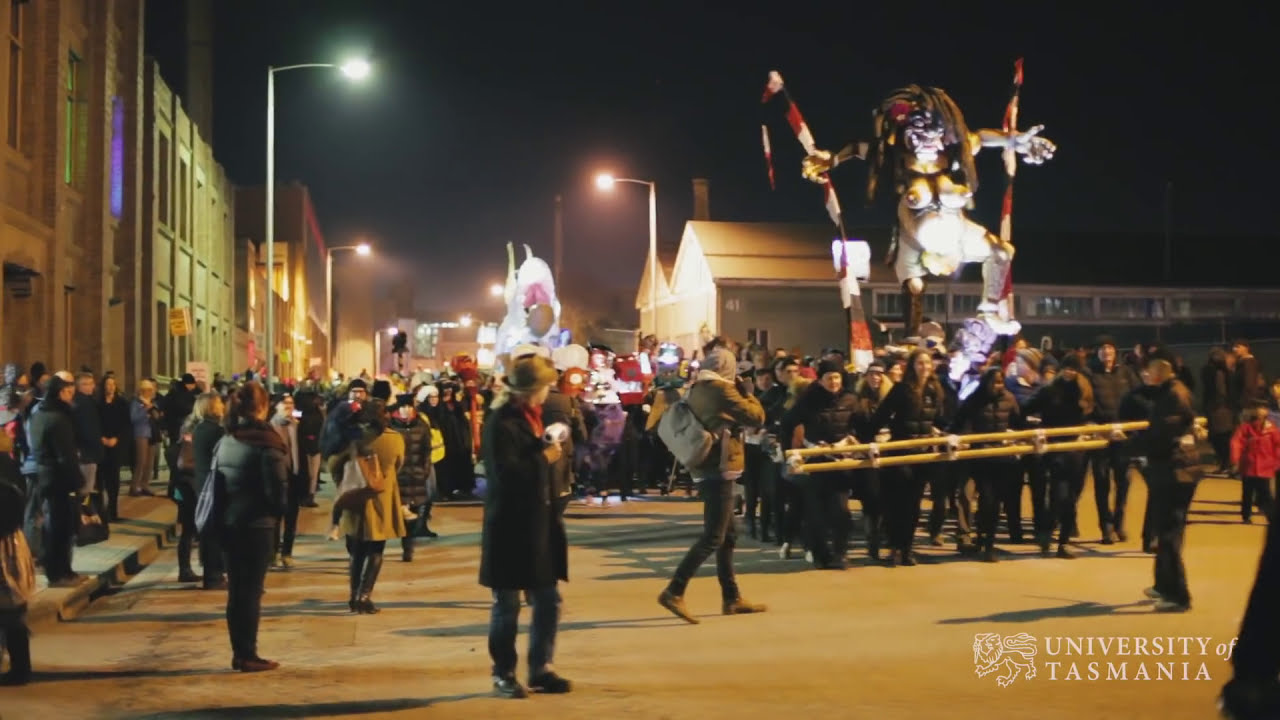 Take your passion for ideas further than you ever imagined.
We offer a collegial, supportive environment, with experienced supervision, regular seminar series, research skills training, and many opportunities to work with peers and academics on your areas of interest. We supervise across a range of methodologies and conceptual/theoretical approaches, and encourage scholarship that draws on ideas from across diverse fields.
Choose a research topic that reflects your interests and identify a supervisor with the expertise to guide you in your research. Search for a discipline staff member via our staff profiles, or by an area or expertise.
The School of Humanities welcomes qualified applicants to undertake a research degree with us in any of our areas of research strengths and interests.
Masters by Research
Doctorates (PhD)
To find out about application procedures, entry requirements, and scholarships, refer to College of Arts, Law and Education Research Degrees.
Our research in Asia
As an interdisciplinary program, the research strengths of the Global Cultures and Languages staff and associates are both geographical (China, Burma/Myanmar, Japan, Indonesia, Southeast Asia, Singapore) and thematic. Our small, passionate team of academics share common interests in politics, traditional and popular culture, language, art, literature and film in the countries we research.
The disciplinary background of our staff is broad, incorporating Political Science, History, Area Studies and Literature. Our research strengths include the following areas:
Asian cities and urbanism
Ethnicity and diasporic communities
Gender and sexuality in Asia
Literary and translation studies
Asia-Australian relations
National and regional politics
Nationalism and identity in Asia
Second and foreign language acquisition
Contemporary culture and cultural studies
Asian art, film and literature
Volunteer tourism
Media, internet and youth culture in Asia
Language and language teaching
We welcome proposals from qualified applicants to undertake research degrees at both the Masters and PhD levels, and are pleased to discuss proposals that cross disciplinary boundaries.
Asia Institute of Tasmania
Established in a partnership with the State Government of Tasmania, the Asia Institute Tasmania is an organisation that fosters engagement with the Asian region by the University of Tasmania and the Tasmanian community. The Institute aims to build professional and institutional relationships with Asia, develop expertise and understanding of Asia, and promote new research activities.
Featured Researcher | Dr Kaz Ross
Kaz is a Lecturer and the Coordinator of Asian Studies in Global Cultures & Languages. Her research interests have included contemporary Chinese art, food safety in China, and Chinese feminism. She has presented research on Asian tourism, especially 'dark' tourism. Her current research project is centred on the Internet and youth culture in China.
Browse our academic staff profiles