Honours in Humanities
So, you've completed the Bachelor of Arts. What's next?
Maybe you're after a distinctive edge that sets you apart from other graduates on the job market. Maybe you want to pursue a Masters degree or Doctorate in the future. Maybe you just love learning!
You can study in the field of your choice while learning comprehensive cross-discipline research skills. You'll work closely with a discipline-specific supervisor to produce a self-directed research project and you'll take classes with a small cross-disciplinary group of students, adding breadth to your learning experience.
Why study with us
Gain an edge in job market through demonstrated research skills.
A main pathway to a postgraduate research degree (MA, PhD).
Study for 1 year full-time, or part-time over 3 or 4 semesters.
A supportive, intimate study environment with options to study at any University of Tasmania campus.
Choose to undertake joint Honours in two disciplines.
Choose from the following subject areas
Aboriginal Studies
Asian Studies
Classics
English
German
History
Japanese
Philosophy & Gender Studies
How is Honours in Humanities structured?
The course structure for Honours consists of four 25% units:
Two coursework units:
Plus two thesis units:
HUM403 Honours Thesis A
HUM404 Honours Thesis B
The thesis is an independent research project undertaken with a supervisor from the School of Humanities.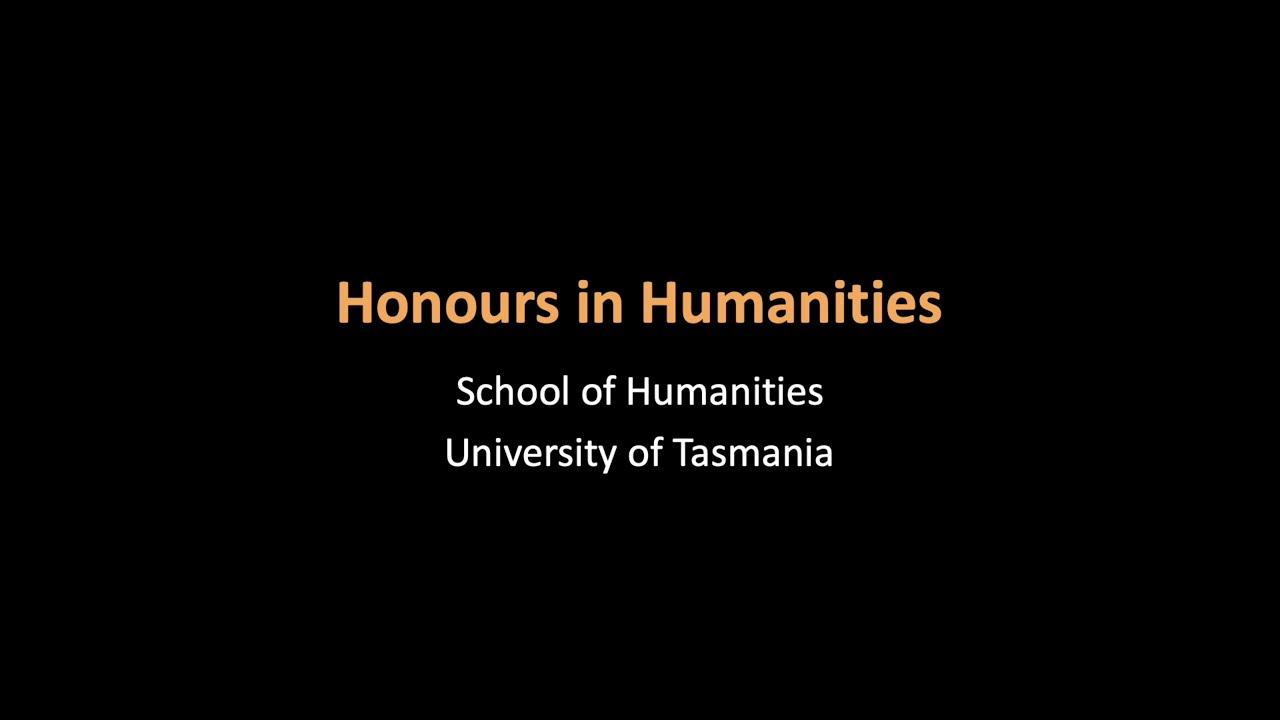 Entry requirements
The Bachelor of Arts with Honours degree allows students who have completed the Bachelor of Arts degree from a recognised Australian university, or a person with some other tertiary qualification and relevant employment experience, a year of study to develop a body of knowledge in a specific context as further preparation to undertake professional work and/or as a pathway for research and further learning.
You will need to have majored in your chosen discipline and obtained a weighted average of 70% or higher in 200 and 300 level units forming a major in your proposed Honours discipline of study.
Specific discipline prerequisites
Classics: Completion of 12.5 credit point unit in either Latin or Ancient Greek language study.
English: Completion of HEN301 Literary Theory.
English creative writing projects
Students with no prior study of Creative Writing units are required to submit a portfolio of creative writing to assess readiness for the program.
Online Hate Speech: Applying a Gendered Lens Scholarships
Are you thinking about studying Honours in 2020? Do you have a major in either Philosophy or Gender Studies? Are you interested in the role that gender—being a man, woman, or non-binary—plays in free speech and hate speech debates? Do you have an interest in online social spaces?
Humanities In Place Industry Engagement Scholarships (HiPES)
Three scholarships are available for 2020, offering Honours students access to the materials and expertise of some of Tasmania's leading cultural and environmental institutions as part of their research program.
The Program seeks to match Humanities students with exciting projects in the cultural and heritage workplace and industry. Participating organisations may include: the Tasmanian Museum and Art Gallery; Port Arthur Historic Site; Tourism Tasmania; Morris Miller Library; and the Heritage Tasmania and Tasmanian Archive and Heritage Office.
Projects
With the support of a University of Tasmania Humanities supervisor and a partner institution staff member, HiPES recipients will explore and research one of the Honours research projects listed below. In addition to producing a written Honours thesis, students may also create a blog, an online exhibit or educational material, gaining a range of disciplinary and workplace-related skills. Applicants should contact HiPES Coordinator, Associate Professor Penny Edmonds who will provide advice on the proposed project.
The State Library of Tasmania archives collection holds three volumes of sheet music that was collected and bound in Tasmania in the 1830s. This rare collection of music represents a fascinating early colonial 'playlist'. The research project offers exciting interdisciplinary opportunities to investigate culture and music in nineteenth-century Tasmania, the history of music as entertainment, or the interconnections between performance and the music trade in this period, in both colonial Tasmania and the wider world. Students will learn to develop an understanding of the significance of this collection and its context within the cultural landscape of the time.
This project explores a curious theatre playbill held in the archives of the State Library of Tasmania to promote the first play about Tasmania performed in London: Michael Howe – The Terror of Van Diemen's Land! The script for the play has not yet been found. This evocative document offers research opportunities to analyse the imaginings of Van Diemen's Land from London through theatrical performance, and the potential for imaginative reconstruction of a text. Other playbills and texts of this period may also be analysed.
The State Library of Tasmania holds many fascinating diaries and journals. Students will research and transcribe one (or part of one) of these and use this as a jumping-off point for a project to map the person's 'imperial life' through travel and/or correspondence. In this way, the project will focus on using archives and studying 'networked' imperial histories or imperial biographies and group biographies in the 19th c. Outcomes will include experience in transcription and exploration of how a single diary or journal may be mapped and contextualised. Journals: NS1011 Peter Oldham, 1851–1855; NS213/1Jane Williams (Née Reid), 1836–1843 (linked to Clyde Company); NS2739 Henry Williams, Sea Voyages (Tasmania, NZ, Pacific, California), 1845-1850.
On retirement from federal politics, former senator for Tasmania, leader of the Greens, and activist Christine Milne AO donated items to the Tasmanian Museum and Art Gallery. This Honours thesis project will examine the Milne collection through the eyes of the donor, and may consider a range of questions around biography, politics, leadership, environment and gender. Milne's autobiography An Activist's Life, tells her story through these key objects. Students will learn to prepare two to three significance assessments of key objects to develop an understanding of the significance of this collection and its context within the political landscape. The collection could be considered as a whole or examined through material specific to the Lake Pedder and/or Franklin environmental campaigns.
This project will research parts of a significant collection of environmental and protest-related material in the history and photographic collections at the Tasmanian Museum and Art Gallery. A project around a number of exciting collections including material from high-profile political figures and organisations from different campaigns from the 1970s to the present may be crafted. This project fits within the TMAG Cultural Heritage 10-year Strategic Plan and offers preliminary research into the upcoming exhibition Protest. Students will learn to assess the collection, research other comparative collections, and prepare two to three significance assessments of key objects to develop an understanding of the significance of this collection and its context within the political landscape.
This project will explore colonial traveller Sarah Mitchell's artworks and diaries, held in the collections of the Tasmanian Museum and Art Gallery and the special collections at UTAS. Sarah Mitchell (1853–1946) kept a journal from the ages of a13 to 93 and recounts her travel in Tasmania, her art, and her journies. The project may be crafted around colonial women, gender, travel, artistic lives and related themes. Students will gain some curatorial experience and learn to prepare two to three significance assessments for these artworks to develop an understanding of the significance of this collection and its context within the social, historical and artistic landscape of the time.