Activating a township through gardens of "horror"
04 October 2016
"Night Garden (Undergrowth)" – A live site catalyst.
During Hobart's winter, two very strange events grew out of the darkness…
On June 16, between 7pm and 12pm, more than 600 people descended into an underground basement in Hobart, navigating the subterranean city space to experience projected video installations of root systems, fungal spore growth, and the arresting faces of school children.
And on June 24, between 5-9pm, the streetscape of Triabunna was illuminated with projections of luminescent mushrooms, carnivorous plants, microscopic plant footage, and B-grade horror films of plants with child actors.
Live Site Catalyst (LSC) is a School of Creative Arts project focused on the contested post-industrial landscape and regional community of Triabunna, north east of Hobart. 
This in turn became the catalyst for two amazing, original exhibitions.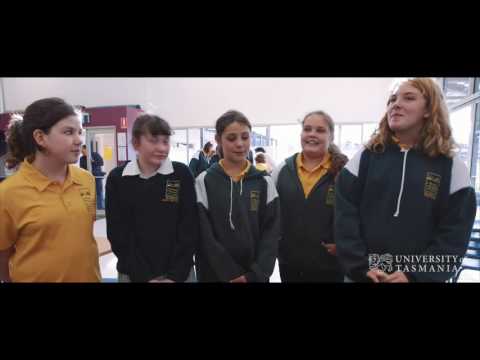 Lucy Bleach, Head of Studio (Sculpture) from TCotA, said, "Whilst undertaking preliminary LSC research, the tender care local residents took of their private gardens within the post-industrial landscape stood out as individual tending, that collectively manifested a nurtured, abundant space in contrast to the post pulp mill socio-economic and cultural terrain.
LSC generated visualisations of new streetscapes defined by new industries; vertical gardens that could operate simultaneously as unique town signifiers and a new industry defined by the propagation of gardens as opposed to the pulping of trees.
This ambitious, long term proposition evolved through various exchanges and workshops involving key stakeholders.
"Dark Mofo 2016 afforded a unique opportunity to seed the long term vision through a contemporary art encounter.
Dark Mofo's nocturnal 'tempest' theme triggered Night Garden, an after dark site-specific video projection project geared to activate the township through gardens of 'horror.'
Over the course of a month-long workshop period, grades 5 and 6 students from Triabunna District School worked with TCotA staff and researchers Lucy and John Vella, with support from third year Sculpture and Time Based Media students, to produce B-grade horror films of their Triabunna gardens. 
Workshops involved costume design, mask making, and sculptural body adornment constructions that synthesised the students' bodies into vegetable/plant/human hybrid forms.
Students were directly engaged in film making activity – including shooting Super 8 B-grade horror clips of the school vegetable garden and digital footage shot via an iPhone through a microscope at varied cross-sections of plants (vegetable and endemic).
The local community hall was hired to project footage from classic plant horror films such as Day of the Triffids, as well as time-lapse footage of fungal spores, luminescent mushrooms and carnivorous plants. 

TCotA students painted the students' faces, assisted in choreographing performances, and recorded the footage of the students 'acting up' to the projected footage.
The footage was collated and edited for Night Garden (Overgrowth), a one night only event for the 2016 Dark Mofo festival.
The multiple films were projected on the homes and commercial buildings of Triabunna, charging the township with B-grade botanical horror films that reframed their locale, fusing the real with the imaginary, translating multiple narratives of the town through the moving images created by the students that lived there.
NightGarden (Undergrowth) occurred for one-night only in Hobart. The footage was distilled, transformed and installed within the sub-scape of one of Hobart's underground spaces. 
More than 600 hundred visitors viewed the basement of 51 Collins St Hobart, surprised by the extraordinary, unknown subterranean space, and the curious and compelling footage and installation components.
LSC is a creative collaborative project between TCotA (Kit Wise, John Vella and Lucy Bleach), Glamorgan Bay Council, University of Tasmania Architecture and Design, and the Monash School of Architecture. LSC frames a two-year project, with ongoing activities progressively 'owned' by the community, including Terrain Analysis, Pragmatic Engagement
and Shared Experience. LSC is an Institute for the Study of Social Change Flagship Project, funded by the University of Tasmania. 
Apply now for our new Bachelor of Fine Arts with Honours. 

TAGS:
Dark-Mofo
CALE-Research
College-of-Arts-Law-and-Education
CALE-Research-Regional-and-Rural
School-of-Creative-Arts-and-Media
Creativity-Culture-and-Society
Art
About Lucy Bleach
Lucy Bleach's practice focuses on human's varied relationships to tenuous, contingent and at times volatile environments, seeking engagement with communities that authentically experience such relationships, exploring links between the geologic and the intimate, and investigating the potential of vibrational ground.
View Lucy Bleach's full researcher profile
Find this story inspiring?