Hydrowood: a vast resource reclaimed
14 November 2016
In Hydroelectric dams around Tasmania, forests of dead timber are still standing...
Flooded to create water storage for energy production, these dead forests of 200 – 1000 year old trees have been submerged for more than 30 years. 
Thanks to innovative new harvesting and processing methods, this valuable timber is now being reclaimed – it is called Hydrowood.   
Forest management and harvesting company SFM Environmental Solutions Director David Wise first learned about reclaiming timber in British Columbia four years ago. He said to his business partner and fellow Director Andrew Morgan – "why can't we do this here?" 
There is high demand for Tasmanian special species timbers, but very low supply. So this dead timber was potentially a valuable resource. But we didn't know how recover it or how it would perform, said Mr Morgan.
They initiated a feasibility study with the University of Tasmania and the Department of State Growth and assessed five lakes. Divers recovered timber that was then assessed by the University's Centre for Sustainable Architecture and Wood (CSAW). 
"We needed to know if the timber was sound, whether it could be used for building, joinery, flooring, and how we could dry it with the right regime of air-drying and kiln time," said Senior Technical Officer, Michael Lee.
"We also looked at strength properties, the way it machined, and whether it would it take coatings. We couldn't look at conventional thinking for sawing patterns."
CSAW found that if it was dried properly, Hydrowood became a very stable and commercially viable product. 
It's not just a great story of innovation, it is a great thing to reclaim these logs, Mr Lee said.
SFM now has around 15 years' worth of timber resource in Hydro dams around Tasmania that they can supply to the marketplace.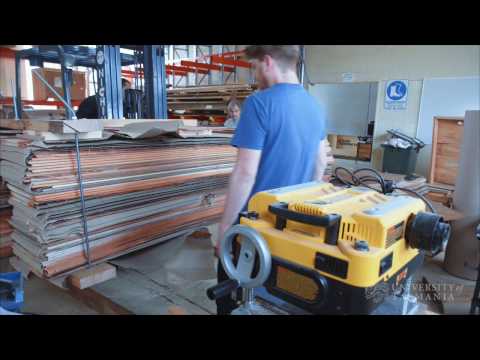 A commercial enterprise
There is speculation that harvesting submerged timber is a $50billion industry that only two or three companies in the world can harvest. SFM built two pieces of equipment worth $5 million to extract the timber on a larger scale. 
"Hydrowood 1 is an innovative barge solution with an excavator on it that can go down 26 meters. It is a first in Australia." 
SFM is now working with the University of Tasmania on underwater technology to improve visibility for harvesting. They are currently exploring sonar and alternative types of cameras. 
The University has become a bit of a go-to whenever we've got a problem. They provide us with ongoing quality assurance and we engage with them weekly.
"We'd eventually like to get a PhD student in to work with us ongoing to better understand the properties of Hydrowood. And we're looking at putting in place a timber tracking system and the University is helping us with that also." 
Mr Morgan said Hydrowood has been a quantum leap for their business. 
It's a first in Australia, if not the southern hemisphere. We've had approaches from Brazil and Panama about taking this technology and using it over there.
The product in the marketplace
Furniture maker and University alumnus Simon Ancher is partnering with Hydrowood.
Hydrowood is an amazingly unique resource that I feel comfortable using.
"We took some of the first timber that was pulled out of the dams and worked with students to create furniture, so that SFM could see how the timber would work in practice."
Mr Ancher has collaborated with fellow designer Matthew Prince to use Hydrowood timber for commercial furniture projects, like the large-scale committee room tables for Hobart's Parliament Square.  
My clients have been really excited by the story of such a responsibly sourced material and really want to engage and have their items made from Hydrowood.
Andrew Morgan and David Wise from SFM Environmental Solutions are graduates of the University of Tasmania.  
Study Architecture and Design at the University of Tasmania. Our degree integrates three design specialisations: Architecture, Furniture Design and Interior Design.

Interested in diving into research? Apply now to become a research student.

TAGS:
Architecture-and-Design
alumnus
Architecture-and-Design-Research
School-of-Technology-Environments-and-Design-Research
Environmental-Sciences
innovation
School-of-Technology-Environments-and-Design
Environment-Resource-and-Sustainability
Find this research inspiring?