Internship has life-changing outcomes
21 November 2016
Study experience opens up a "new world" for Business student.
Niels van der Winkle has just produced a social return on investment report for not-for-profit organisation Colony47. They'll present the report to the government in a case for funding that has the potential to change many lives. It's an incredible achievement for a final year Economics student, who has had a life changing experience of his own. 
Niels is studying a double degree in Economics and Business. Having moved to Australia from the Netherlands, he is now in his final year and says he has enjoyed every bit of it. 
While exploring his elective options for his final subjects, Niels came across the Tasmanian School of Business and Economics' Corporate Internship Program. A one semester subject that sees students carry out a project for a real organisation, one day per week. A project with Colony47 piqued his interest. 
It just spoke out to me and I'm really glad that I did it. I applied for it and went to the interview, which just got me more excited, he said.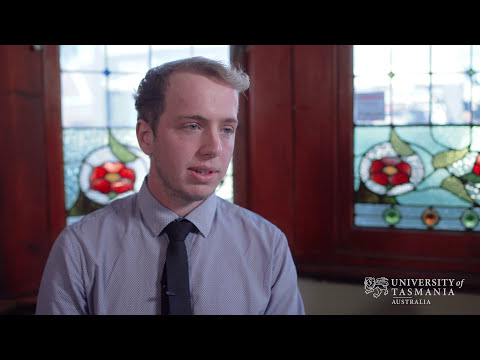 The government funded Colony47 offers a range of services. One of their services is the Eureka Clubhouse, a psycho-social rehabilitation centre.  
The Centre is an alternative to clinical mental health services such as a doctor's office or a hospital where people can go to seek help for mental health conditions such as anxiety and depression. It is a community organisation where people interact with other members, and help with things like cooking, which is part of the treatment. 
"It has been found to have a much bigger impact on the members' life than going to a clinical mental health service. There is also a lot of other support that members get from the clubhouse, such as help with housing. And it's a lot cheaper than a clinical mental health service.
I had to make a case for the significant social and environmental value the Eureka Clubhouse has in the form of a social return on investment report. They wanted a report to take to the government to secure funding for another clubhouse in the region.
"I really like economic research, but didn't have a lot of knowledge about conducting a social return on investment, so the challenge appealed to me.
It was overwhelming at first to have such a big and important task set, but there was so much support and lots of things to help me.
"I did a lot of research to understand what I had to do. The more I got into it, the more passionate and excited I got about it. Going by the feedback that I've had so far, I'm really happy with the result." 

Niels found that for every one dollar of government funding, the clubhouse generates around $4.5, which is a substantial government return.
"What gave me motivation was knowing that they would be using the report to actually do something real. I was working on a project to change people's lives.
"I used the skills that I learned at University, and I learned a lot along the way. My past experience was particularly helpful in understanding how to structure the report. 
"There are a lot of stakeholders. I had to interact with members, higher management, and others in the office. It taught me a lot about how to communicate with people effectively. 
"It was great to be outside of my comfort zone and explore a new topic. I would definitely recommend the internship. It might seem a bit challenging and overwhelming at first, but in the end it is really rewarding. It gives you really great experience and it looks good on your résumé.
I feel more employable. I think that I have been able to set myself apart from other people that haven't done this type of program, and that have done the same degree. It has definitely helped my confidence being able to tackle problems as big as this and effectively carry out the project.
"It has opened up a new world for me in social economics and if an opportunity presents itself again to me in that space I will go for it."
TAGS:
TSBE
Business
corporate-internship
TSBE-Economics
economics
student-experience
TSBE-Study
Find this story inspiring?