How sea ice could help detect life on another planet
24 November 2016
Meet the Antarctic Science student searching for life on Jupiter's frozen moons.
Sahan Jayasinghe completed a genetics degree in Melbourne, but while working with Great White Sharks in South Africa, he realised that marine biology was his real passion. 
He came to the University of Tasmania's Institute for Marine and Antarctic Studies (IMAS) and was blown away by the opportunities and personal guidance from lecturers. Here he found his niche. He became an astrobiologist where, using his knowledge of sea ice, he is exploring the possibility of life on Jupiter's frozen moons.  
I got into a few universities, but with Hobart having a really big international reputation, more marine scientists than any other city, and being a gateway city to Antarctica, this was the perfect place to do it in Australia. There's no other university in the country where you can actively study an Antarctic science course.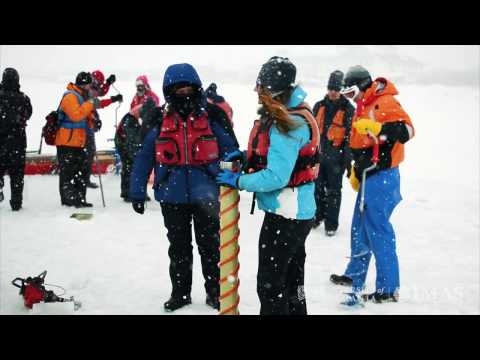 "I'm really glad I came. I've had so many opportunities that I never thought I'd have. I got to play with some really expensive equipment during my undergrad that you would normally never get to touch."
Everyone is in the one building, you know where your lecturer's office is, and if you've got a problem you can go out for a coffee and talk about your issues. It's a really tight-knit community.
Sahan studied a subject where his lecturer, Professor Andrew McMinn, worked with sea ice diatoms. These are single-celled algae that live within the ice. When he finished the course work section of his Master of Marine and Antarctic Science, he decided to continue on with some research with his like-minded lecturer. It was Professor McMinn who suggested Sahan consider astrobiology. 
"I have always been fascinated with astrobiology. Who isn't fascinated by space? When I was a kid I thought I was going to be the first astronaut to go to Mars or something. 
It might seem like a strange fit with Antarctic and marine science, but scientists believe that if life were to exist in space it would probably exist within the briny networks, channels and fractures in the icy shells of Jupiter's frozen moons, like Europa.
Sahan wanted to get more hands-on experience with sea ice, so he applied for a $3000 scholarship  New Colombo Plan Scholarship to attend an IMAS student study program in Hokkaido, Japan, and was successful.
"It gave me a really good insight into the physical characteristics of sea ice and what goes on behind it. It was the ultimate background to my research.
"Sea ice in the lab is not exactly the same as sea ice in nature. In Hokkaido I learned more about the inner structure of sea ice, and got to see the brine channels in the sea ice in real life. To see it in nature and actually walk on it was incredible.
If you want to work down in Antarctica, to say that you've done this course is pretty influential. You know what is to be expected of you and all of the techniques involved.
How to follow in Sahan's Footsteps
If you are still in high school, study the Bachelor of Marine and Antarctic Science – three years full time (Hobart). 
If you have completed an undergraduate science degree at another university, study a Master of Marine and Antarctic Science – 1.5 years full time (Hobart).
Want to get started early?
Enrol in the Practical Introduction to Temperate Marine Biology in year 11 or 12. You'll get hands on experience in the Tasmanian marine environment. 
The sea ice field training course in Hokkaido is a week-long course that takes place at the end of the Japanese winter/early spring – roughly late February in Australia. This is just before the sea ice begins to melt. Sahan was funded by an Australian Government New Colombo Plan Scholarship. He joined a group of 13 students including both undergraduate and PhD Candidates. 
The University of Tasmania offers exchange programs with 150 Partner Institutes across 30 countries globally. 
Interested in conducting your own research? Apply now to become a research student.

TAGS:
Marine-Antarctic-and-Maritime
IMAS
Postgraduate
Science
Biological-Sciences
research
Earth-Sciences
Marine-and-Antarctic
Find this story inspiring?