Innovative teaching turns anatomy inside out
21 April 2016
Anatomical body painting? That's some Science Worth Seeing.
Smart phones and 'doodling' might be seen as distractions by some teachers, but to award-winning teaching innovator, Dr Jamie Chapman they're just another way of engaging students.
Originally trained as a biological microscopist, Dr Chapman's major focus now is educational research, particularly innovative ways to teach.
"Everyone learns differently. Some people learn visually, others need to hear the information. Today's learner is, I believe, very visually focused."
Dr Chapman will be displaying one of his most popular (and Instagrammable) teaching activities at Science Worth Seeing (Saturday 7 May): anatomical body painting.
This inside-out activity sees students carefully painting the body's muscles and underlying structure on the skin.
"The students can take photos on their phones. Rather than seeing those devices as a distraction, I incorporate them into the lesson to engage the students more.
"They may not remember a lecture fully, but they'll definitely remember catching the bus home with a skeleton painted down their arm."
Dr Chapman said the lesson is always popular with students.
The feedback I got from my Human Biology students last year was overwhelmingly positive. They said it was their best practical lesson. It's quite different from 'pracs' where they look at microscopes and computer screens. With the painting they also get to work in groups, it's a relaxed atmosphere, and they get to express their creativity.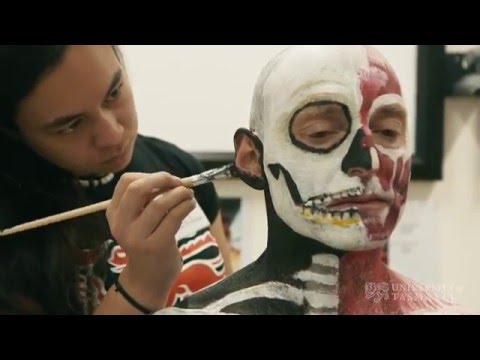 "Anatomical body painting is mainly used to teach medical and dental students, for tracking and inserting specific origins of muscles and so on. Medical students and dental students need to learn very detailed anatomy.
"I have expanded that out to Human Biology students, who learn more general anatomy, such as the shapes of the muscles and how they interact with joints, what they look like and their general functions. The painting gives a good understanding of that.
 "As far as we are aware, this is the first time a university has used body painting for more general anatomy teaching.
"It increases student engagement by making the content more fun.
 "I've also introduced virtual microscopy for the first time in about a decade at the university, which is now being used in a number of units, and eBooks.
"In the old days when we'd teach histology (what the body looks like under the microscope) it used to be one student, with one slide box and one microscope, but that's quite a limiting way to learn. The students had to be physically within the lab."
Dr Chapman said the slides were digitised and are now available via an online system.
Students have access to slides 24 hours a day, seven days a week, from anywhere. This flexibility is important to today's students.
"In the lab, this digitisation has the added benefit of making it much easier for students to collaborate with their peers, by all looking at the same slide on the screen, pointing things out and helping each other. 
"It also makes communication easier between myself and the students. We both know exactly what we we're talking about, because I can physically touch the screen and say this is what I'm talking about."
This project was honoured locally with Vice-Chancellor's citations for outstanding contributions to student learning (in 2013) and nationally with an Office of Learning and Teaching Citation in 2014. In 2013 Dr Chapman was also named an Apple Distinguished Educator.
At Science Worth Seeing (May 7) Dr Chapman and some of his students will be demonstrating the anatomical body painting. Dr Chapman will be available to answer questions, and will also give a short presentation. 
See this and more awesome science at Science Worth Seeing.  
Interested in making your own discoveries? Apply now to become a research student.

TAGS:
Studies-in-Human-Society
Education
anatomy
teaching
Health
science
Better-Health
About Dr Jamie Chapman
Dr Chapman is a lecturer in Human Anatomy in the School of Medicine. He is coordinator of first year Human Biology and coordinates and teaches histology in the first two years of Medicine. While his research now largely focuses on technology enhanced learning and teaching, Dr Chapman also has expertise in biological light and electron microscopy techniques. He has been recognised for his excellence and innovation in teaching through national (Office of Learning and Teaching) and local (Vice-Chancellor) citations for outstanding contributions to student learning and is an Apple Distinguished Educator.
View Dr Jamie Chapman's full researcher profile
Find this story inspiring?