Race car project helps students drive straight into industry
26 April 2016
This Engineering unit is a formula for education - and fun.
If you study Engineering at the University of Tasmania, you get to design, build and drive your own race car.
Formula SAE is an international student engineering design competition, hosted by the Society of Automotive Engineers. 
Students take on the role of a small production team. Within a year they conceive, finance and manufacture a prototype formula-style racing car that adheres to specific regulations. They then race the car at the annual Formula SAE competition. 
The SAE project is embedded in the curriculum. Students all the way from first year to postgraduate work on the team, with design projects integrated into the third and four year subjects. 
Third year Engineering student Caleb Cooper said the team "does everything, on every level."
"It has the sole purpose of getting students ready to go into industry. 
We design, manufacture, build and race the car. It gets us prepared to go out into the industry and start designing and making cars.
And it's not just designing and racing. The students also have to keep an eye on costs, balance a budget, and work with sponsors.
"We are pretty much operating as a business. So you can jump right out and start doing this in the real world," he said.
"My real dream would be V8 Supercars or Formula 1. Ideally, into the car industry in Australia.
Caleb said he "loves" the University's workshop facilities.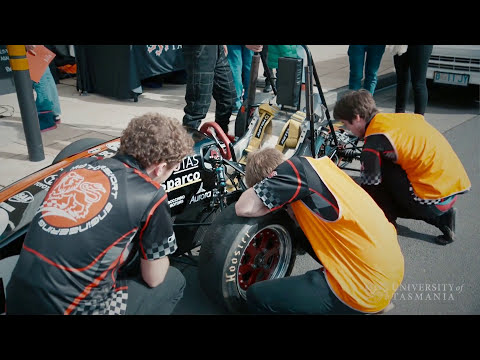 We made pretty much all parts of the race car in house, at the University. The idea is that you make everything from the ground up. You have to understand how everything works in order to make it better.
"We just assumed that was how it's done everywhere. But we went to a competition over on the mainland, and everyone had outsourced the making of the parts. We were really surprised about that. Then we found out our facilities are one of the best in Australia. We were really impressed by that. I'm really glad I'm here."
Caleb said the competition itself, where different teams compete, was fantastic.
"The atmosphere at the competition is very competitive, but everyone chats and shows off their cars, inviting you into the pits to see it. If you run into a problem, they will share how they got around that problem.
"It's a really great, friendly environment. It's a great time."
Edward Palmer, second year Engineering student, said "what I like about the Uni is that is has so many extracurricular activities to offer." 
Within the Formula SAE activity I gained so many practical experiences which will help me throughout my degree and with getting a job, and into my career in the future.
"It offers so much in terms of the experiences you gain with design and engineering. It's really good. 
"It's a fantastic social activity as well. We've got about 30 people on our team, not just from Engineering, but from the Tasmanian School of Business and Economics, and Law. 
"Even though I was only first year engineering last year, you still have a lot of involvement in both design and manufacturing. More so in manufacturing because in the early years you don't have as much experience, but you definitely move on and you can even do Honours projects on the car," he said.
"Everyone is welcome to drive the car if you're on the team, it's a very inclusive project." 
See the Formula SAE car at Science Worth Seeing (Saturday 7 May). 

TAGS:
Engineering
student-experience
Find this project exciting?