Working with elite athletes is a "pretty special experience"
19 May 2016
Exercise Science student learns from the best.
Torben Partridge-Madson has always loved cycling, so doing prac with the best cycling team in the country was a fantastic experience.  
It was his interest in cycling, and sport generally, particularly at the elite level, that enticed Torben into a career in Sport Science. 
"I've been cycling since I was ten, I got into it with my dad, but I didn't make it to the elite level. I really wanted to see how elite athletes do it – what separates them from the rest of us."
This year he had the perfect opportunity to do just that when the Avanti Cycling team, one of the best teams in Oceania, spent time at the University of Tasmania sport science lab to undergo some testing.
We got to run the Avanti Cycling Team through a series of tests including neurological and strength testing, and we tested their endurance and capacity. It's a great experience testing athletes, which is a key component of exercise science.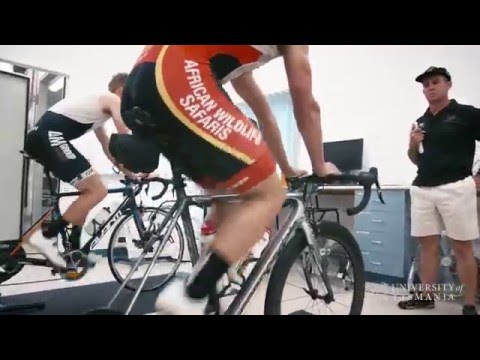 The Avanti Cyclists underwent, amongst other things, a five-minute ramp test where they did increasing workloads every five minutes until they couldn't go on.
"It's pretty interesting to see them pushing themselves as hard as they can and testing that ability. Seeing the best in Australia and getting an appreciation for just how good they are is amazing."
Torben is keen to head into a career testing athletes and seeing just how good they can be.
Coach of a team like the Avanti Racing Team is a role that Torben wouldn't mind doing in the future.
It's pretty interesting working out what kind of training we can get these guys doing for them to do as well as they can. And also monitoring that progress throughout the season.
Torben has also been involved in studies with PhD students and researchers looking at cycling and rowers.
It's been great to look at new things that haven't been done yet and being involved in testing new concepts in exercise science.
"In our course we get to learn a lot of theory, so getting to put that theory into practice with elite athletes is a pretty special experience."
TAGS:
Exercise-Science
Science
Health
Elite-Athletes
Find out how elite athletes achieve greatness.