It's the time of the year we embrace our dark heart
04 June 2016
The University of Tasmania at Dark Mofo 2016.
Art. Bonfires. Feasting, wine and community.  All in the crisp, clear Tasmanian winter. It's Dark Mofo time again.
This year the University of Tasmania is once again contributing to a range of startling artistic projects for the epic festival.
Night Garden
This spooky video project at Triabunna is making movie directors out of the local school students.  We are working with students from the Triabunna District School to make 'B-grade horror films' of their gardens that will become an underground installation for one night only in Hobart.
Undergrowth: Thursday 16th June, 7pm – 12am, Basement Level 51 Collins Street
Brainstorm
A group of artists will present a series of "activating" installations in and around our Tasmanian College of the Arts Hunter Street campus, including the Plimsoll Gallery, the loading bay and the campus' courtyard.

Featuring work by:
Michael Schlitz
Pat Brassington
Matt Warren
Andrew Harper
Scot Cotterell
Amanda Davies
Darren Cook
Grace Herbert
Jacob Leary
Friday 10 – Sunday 19 June, 5 – 10pm, Centre for the Arts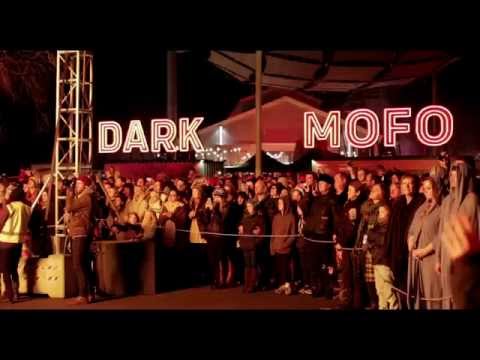 Dark Ocean (IMAS)
Art meets science as this spectacular display of data collected during raging storms, video, sculpture, and free performances, light up the windows of our Institute for Marine and Antarctic Studies building on Hobart's waterfront.
 Featuring work by:
Jordan Basement
Keith Deverell
Tace Kelly
Peter Morse
Anya Reading
Kit Wise
Marin Gal
Exhibition: Friday 10 – Tuesday 21 June, 9am – 5pm (and also visible by night)
Performances:
Friday 10 – Sunday 12 + Tuesday 14 June, dusk
Wednesday 15 June, dark
Friday 17 June, dark
Sunday 19 June, dark
Monday 20 June, dusk
IMAS, Hobart waterfront
 Friday 10 – Sunday 19 June 9am – 5pm
Ogoh Ogoh
Who could forget the astonishing inferno of Jessica the Handfish at last year's Dark Mofo? This year, MONA has created a weedy sea dragon ogoh-ogoh. Visit Dark Park to put your worst fears and dark thoughts inside the ogoh, then breathe a cleansing sigh of relief as the darkness disappears in a fiery ritual display.
Wed 15 – Sat 18 June 5-10pm Dark Park
Sunday 19 June 5pm: Parliament Lawns 
Find out about the University's Asia Institute Tasmania's involvement in ogoh-ogoh. 

Find out more about studying music, creative and performing arts. 

TAGS:
community
School-of-Creative-Arts-and-Media
Theatre-and-Performance
Bachelor-of-Arts
Bachelor-of-Fine-Arts
Dark-Mofo
School-of-Humanities
College-of-Arts-Law-and-Education
Asian-Studies
Asia-Institute-Tasmania
Global-Cultures-and-Languages
Creativity-Culture-and-Society
Art
Find this story inspiring?