A whole world of science on one beautiful island
06 July 2016
A group of secondary students keen on science visited Tassie for the road trip of a lifetime.
Students from NSW and Victoria were recently given the opportunity to explore all that Tassie has to offer on the University's SciCo science road trip competition. 
From our Mt Canopus Observatory to our Ice Core Lab at IMAS, the students were treated to tours of facilities and fun science activities and demonstrations.
Tasmania's captivating scenery and iconic Dark Mofo Winter Feast were key contenders in sparking the students' interests.
We asked the students what they thought of their experiences.
Sasha Falkenberg
"I've really enjoyed it. It's really exciting. I've had a lot of fun and I've met a lot of people. I feel like I've learnt a lot about what Tasmania offers.
I didn't really know what to expect. I didn't know what people were going to be like down here and they were really friendly and open.
"I really want to do marine biology or Antarctic sciences, that was one of the reasons I came here, because they offered that. I was excited to learn about it.
"They explained about how they do the trips to Antarctica and you don't really hear about that anywhere else in Australia." 
Dianne Yans
"It was when she (Sasha) went to a careers expo in Melbourne that she was drawn to UTAS, when they started telling her about the opportunities in terms of marine biology and the Antarctic studies, the CSIRO being down here and IMAS... it really sparked her interest. We love Tassie, we've been down here a number of times.
"It was great, the spark that I saw in her eyes when she said 'they've offered me this.' 
We were talking about her studying overseas and I said 'well Tassie is great, let's look at Tassie.' Speaking to her about the past couple of days, everything is resonating with her. She's going, 'this is what I want to do, this is where I want to be.'
"As a parent you think great, that she's got an idea of where her future lies. I don't think we're going to find anything as good. As a parent, I couldn't be more thrilled."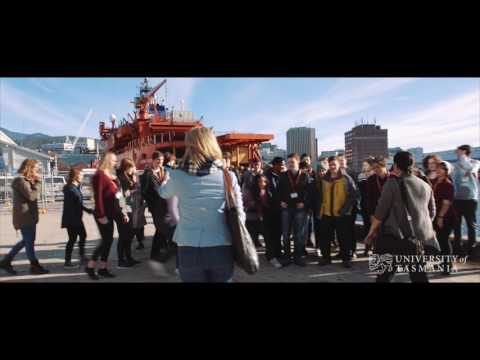 Phillip Pennisi
"I've already been interested in marine science- which is a bit funny, being from the country with not any water around! I was looking at universities in NSW, and when I got this opportunity to come down here, I thought I'd give it a go. It's been pretty good. 
"To see him (Professor Nathan Bindoff) in real life and hear about what he's doing and how he's doing it, it's pretty incredible. 
"I definitely want to do marine science. 
"The facility here is amazing (IMAS). Having the Aurora Australis so close; it's valuable to have that kind of resource around. 
"It was only after I'd won I actually looked up the University of Tasmania. So far it's been quite good, quite informative.
You get a degree at any university, but it's the lifestyle attached to it that really draws you into a particular place.
TAGS:
IMAS
Science
Marine-and-Antarctic
biology
Earth-Sciences
geology
Find this story inspiring?