In the future, boats might fly
06 February 2017
Sam is using hydrofoil innovation research to figure out if it's possible to make boats soar.
Sam Smith dreams of one day creating a boat capable of flying above the water.
Impossible? Not with hydrofoil innovation research.
Sam is studying his PhD at the ARC Research Training Centrefor Naval Design and Manufacturing at the Australian Maritime College at the University of Tasmania. His project is looking at the unsteady loads on a hydrofoil in a turbulent boundary layer.
One of my goals is to join an America's Cup team. They're at the forefront of hydrofoil innovation right now. They're doing some fantastic things. You see these boats flying above the water due to these hydrofoils at speeds above 40 knots. It's incredible.
"They're actually putting the typical hydrofoil horizontally to lift the vessel up out of the water to reduce the drag and achieve these amazing speeds and increasing efficiency.
I want to get pretty much every boat flying above the water. There's a lot of problems to solve with that, but there's definitely good science going on and the industry is heading that way.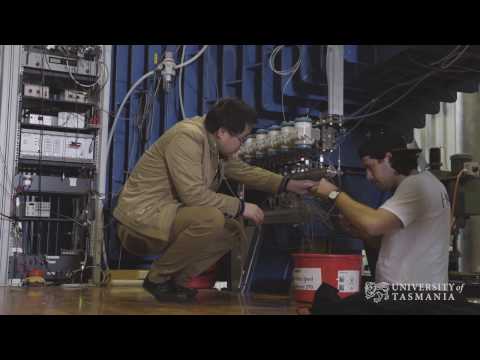 It's these kind of design innovations Sam is interested in exploring.
He said a hydrofoil is "essentially a plane wing under the water."
"It operates on the same principle where the flow over a wing generates a pressure difference between the top and the bottom. This is what allows a plane to actually take off, because it generates a force to lift it up and fly. A hydrofoil is taking this wing and putting it underwater.
"Because rudders are typically located at the aft end of a vessel, they're subject to the flow generated by the forward-body of the vehicle, primarily by what is called a turbulent boundary layer."
This can become a problem for vessel performance.
"It gets quite large and significant and these can cause vibrations in the rudders and other hydrofoil appendages at the aft end. This can give out noise which can easily be detected. 
"Performing in a turbulent boundary layer the actual lift that the hydrofoils can generate is seen to reduce. By understanding this phenomena that's going on, we can then understand how to optimise the design of the hydrofoil" he said.
Sam said one of the great things about AMC is the world-class facilities.
I'm lucky to be working in the Cavitation Research Laboratory. It's the biggest in the southern hemisphere and the team that works there is absolutely incredible and doing some great stuff.
"The Cavitation Tunnel allows us to replicate the ideal flow conditions to measure the forces on a hydrofoil.
"Right now we're using an existing force balance which is used to measure the forces on a hydrofoil. To that force balance we attach the hydrofoil of interest and lower this into the test section and then we'll get the tunnel flowing to the conditions we would like to do, certain speeds and certain pressures.
"Then we will measure these forces at different angles of attack and for different durations. We look at the steady forces so we can get the lift slope of the foil and how that is affected by the turbulent boundary layer.
"What we're looking towards now is designing a new force balance that has a high natural frequency. The problem with the current force balance is that it has a low natural frequency and it contaminates the signal that we get from the hydrofoil in terms of the forces acting on it. So it limits the amount of data we can analyse.
"With this new balance we're going to have a much higher natural frequency so we can look at more data at a greater range of frequency.
We're going to be using laser interferometry which gives incredible accuracy. This is the same technology they use to detect gravitational waves, which is absolutely incredible.
"We've definitely done some good work so far and observed some interesting things that we didn't expect. We're actually seeing some patterns emerge that are quite interesting. We're currently analysing those right now to try and understand what's going on."
Sam said the support and industry experience he's getting will give him a good chance to get into top level naval architecture work like the America's Cup.
"Being specialised in hydrofoils and hydrodynamics is really going to help me get to that area.
That's the great thing here at AMC, the staff and students here are all really close. I feel comfortable asking any lecturer, supervisor, about any problems I encounter.
"I've been at a bigger university, where being in a massive class you feel like you're just a number, but here you're a person to your lecturers and supervisors. It really helps you learn more. It makes the work easier and more fun.
"The staff is what makes this place so great."
Sam said living in Tasmania is fantastic.
I've started learning how to windsurf and go spearfishing, and I've been going up to Cradle Mountain for hikes. Some people are teaching me how to sail. It's really going great. There's plenty to do here.
Find out more about our Australian Maritime College here.
Interested in flying into a research degree? Apply now to become a research student.
TAGS:
Marine-Antarctic-and-Maritime
Technology
Environmental-Sciences
science
marine-studies
AMC
HDR
PhD
student-experience
PhD-candidate
Earth-Sciences
research
maritime-studies
innovation
partnerships
Engineering
marine
Find this research interesting?