This degree lets you drive a REAL race car
21 August 2017
…and help build it!
If you study Engineering at the University of Tasmania, you get to design, build, and drive your own race car.
Formula SAE is an international student engineering design competition, and the project is part of the curriculum.
Students take on the role of a small production team. And they get to race the car at the annual Formula SAE competition.
Engineering student Caleb Cooper said the team "does everything, on every level."
It gets us prepared to go out into the industry and start designing and making cars.
And it's not just designing and racing. The students also have to keep an eye on costs, balance a budget, and work with sponsors.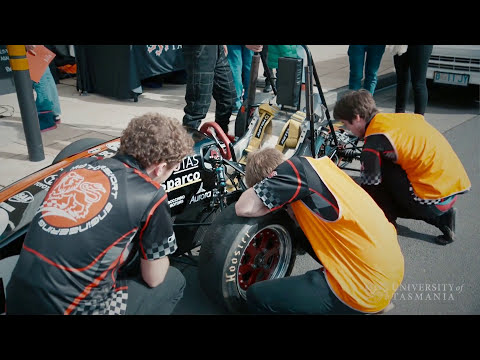 We are pretty much operating as a business. So you can jump right out and start doing this in the real world.
"My real dream would be V8 Supercars or Formula 1.
"We made pretty much all parts of the race car in house, at the University. The idea is that you make everything from the ground up. You have to understand how everything works in order to make it better.
"We just assumed that was how it's done everywhere. But we went to a competition over on the mainland, and everyone had outsourced the making of the parts. We were really surprised about that. Then we found out our facilities are some of the best in Australia. We were really impressed by that. I'm really glad I'm here."
Caleb said the competition itself, where different teams compete, was fantastic.
"The atmosphere at the competition is very competitive, but everyone chats and shows off their car, inviting you into the pits to see it. If you run into a problem, they will share how they got around that problem.
Everyone is welcome to drive the car if you're on the team. It's a really friendly environment. It's a great time.
Drive into industry with an Engineering Degree from the University of Tasmania. Apply now:
http://www.utas.edu.au/courses/study/engineering
TAGS:
Students
Engineering
College-of-Sciences-and-Engineering
science
student-experience