This scientist is forcing a rethink of how we discover marine life
22 January 2018
Out of sight and out of mind? Not anymore.
"I don't have the usual academic background," said Professor Graham Edgar, who's running one of Australia's most successful citizen science initiatives out of the University of Tasmania.
With a focus on minimising human threats to the marine environment, Professor Edgar admits he's taken an unorthodox approach to research, but in the process has shown that members of the public can produce data as accurately as a team of seasoned scientists – something that may come as a surprise to some in the industry.
"Some researchers express doubts that citizen scientists can produce information of the highest quality," he said.
My response is that no one would question the expertise of the best amateur birdwatchers compared to graduate biologists.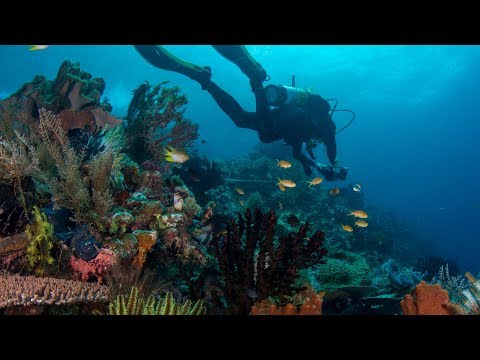 Working with a group of 200 recreational divers who have spent hundreds of hours exploring the world's oceans, Professor Edgar now has information coming in from 3,000 sites in 50 countries around the globe, as part of the Hobart-based Reef Life Survey.
"They're super enthusiastic, and we've found that the best divers already know most of the species – they just need training in rigorous scientific methods for surveying life on the seafloor," said Professor Edgar.
Because of the global scale of this kind of project, it's something that a team of scientists alone could never manage. And even if they could, the cost would make it almost impossible to maintain over the long term.
But thanks to the Reef Life Survey volunteers, some of whom have spent more than a decade working with Professor Edgar, we now have an unprecedented record of how thousands of fish and invertebrate species are responding to pressures such as climate change, pollution, and commercial fishing.
It's also allowing us to keep tabs on some of the world's rarest – and most overlooked – life forms, such as the elusive handfish, which looks like a sad, brightly coloured frog wearing a pair of oversized gloves.
The issue with marine species is they're out of sight and out of mind. We don't have good data to be able to say how population numbers are changing.
Describing his career as the synthesis of "three different worlds", Professor Edgar splits his time between academic research, business advising, and work with conservation NGOs, in an effort to improve conditions in the world's reefs, seagrass beds, estuaries, and soft-sediment habitats.
It's this combination of expertise that ensures whatever insights are provided by the Reef Life Survey divers will actually make an impact. Professor Edgar leads a collaborative research network involving management agencies, who advise on the information most needed to address the declining biodiversity of the world's oceans.
The volunteer divers see that what they're doing is contributing to changes in management practices. That seems to be the primary driving reason for why they persist, including committing to the somewhat laborious task of entering data. They feel like they're actually having an impact. It's a win-win situation for everyone.
It's one thing to feed the survey data into government policy decisions, but Professor Edgar is also committed to making sure that the information remains in the public domain in a meaningful way.
We've put together one of the most comprehensive field guides for global marine species.
"It includes information that isn't available anywhere else. It allows people to identify the various species, and gives them an idea of whether they're common or not."
The Reef Life Survey's online field guide, which profiles more than 4,000 species around the world, achieves more than 12,000 page views per month, while RLS species records have already had 12 million downloads in Australia alone, and 400 million internationally.
While Professor Edgar says the task of improving marine environmental conditions is like tackling the world's biggest crossword puzzle, he's assembling the kind of brains trust that actually has a shot at solving it.
Banner Image: Volunteer diver on Lord Howe Island. Credit: Rick Stuart-Smith.
IMAS and Reef Life Survey researchers recently made an extraordinary discovery: A new population of the extremely rare handfish. Read more here.

Interested in reaching new depths? Apply now to become a
research student
.
TAGS:
Institute-for-Marine-and-Antarctic-Studies
IMAS
Ecology-and-Biodiversity
College-of-Sciences-and-Engineering
Institute-for-Marine-and-Antarctic-Studies-Research
Biological-Sciences
CoSE-Research
About Professor Graham Edgar
Professor Edgar has made major contributions internationally within the fields of marine ecology and conservation, in particular through studies assessing (i) interactions between macrofaunal invertebrates, fishes and plants, (ii) important metabolic-based regularities in faunal communities, and (iii) threats to marine biodiversity. Recent studies have primarily involved investigation over time of large-scale human impacts on marine ecosystems (in Tasmania, WA, SA, Victoria, NSW and the eastern tropical Pacific), including effects of fishing, sedimentation, oil spills, introduced species and aquaculture.
View Professor Graham Edgar's full researcher profile