Bored by the mainstream? Study in Tasmania
16 October 2018
We're the creative state.
Has anyone ever told you your ideas are weird? Or that your style is a bit unusual? Or do you just feel bored by the mainstream?
Congratulations! You're destined to be a creative!
At the University of Tasmania we'll nurture your spirit and your individuality.
We know the world needs more artists, communicators, and creatives, and right now in Tasmania is the best time to embrace your vision.
Our courses are taught by leading experts in their field, and we believe the best way to get the right skills to aim for an amazing career is to actually practice those skills, right now while you're a student.
If you want to become a reporter, an influencer, a performer, or a designer, Tasmania is an amazing place to hone your talent.
If you're a communicator
Our students have access to a brand new Media School that places students literally alongside the reporters working at the State's largest newspaper. Studying Media at the University gives you practical experience in reporting, including filming, editing and presenting, with industry-standard equipment.
You'll be taught by people who've actually worked in the media, so you can graduate and step right into industry, confident you'll hold your own.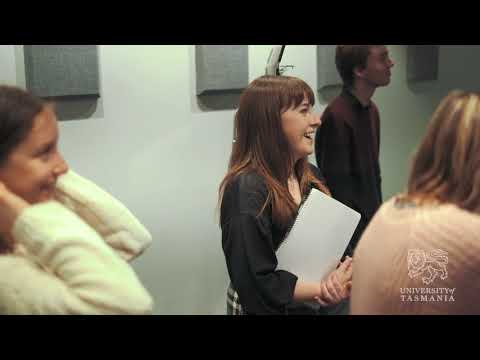 If you're a creator
Fine art is Tassie's jam. Our State has an epic history of creativity, and it only continues to expand as the MONA effect keeps on growing. Our students get up close with MONA's incredible Dark Mofo festival that draws artists and visitors from around the world. And we don't just mean watching the festival…we mean really participating:
In 2015 our Architecture students partnered with Cave Urban to devise and construct an incredible bamboo structure on Salamanca Lawns.
In 2016 our staff and students helped build a giant weedy seadragon…that was set on fire.
And this year our Design students got a professional commission as part of their degree, conceptualising and building stools for Mofo. And these are just some of the amazing projects our students had direct involvement in.
Sound exciting? Apply now to study at the University of Tasmania.
TAGS:
Media-Students
Art-Students
Media
Bachelor-of-Fine-Arts
College-of-Arts-Law-and-Education
students
School-of-Creative-Arts-and-Media
Art