Get inspired to make your creative ideas reality
09 October 2018
We'll help you develop excellent creative and technical architecture and design skills.
Do you want the power to make your creative visions come to life?
Our Architecture and Design facilities are excellent - and so are our graduates.
And you can be too.
What sets us apart is not just our breadth of functional and impressive facilities, both traditional and cutting-edge, but the unmatched access and hands-on experience that students receive when studying with us.
A creative space
We believe you can't create amazing spaces if you aren't working in one.
That's why our students get to work and study in facilities that foster creativity and collaboration.
Steeped in history but firmly focused on the future, our Architecture and Design building is a purpose-built, award-winning, sustainable converted diesel locomotive workshop.
The facility is situated in a bustling creative precinct, adjacent to the Annexe Theatre and the Queen Victoria Museum and Art Gallery and just minutes from Launceston's city centre.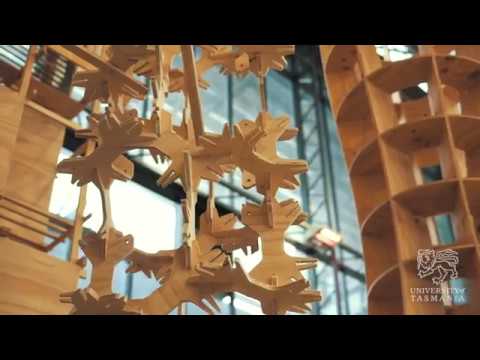 Build your future
Architecture and Design is not just about where we live, it's about how we live.
Innovative and sustainable design practices are at the core of everything we do, because we believe beautiful design can also be responsive, energy-efficient, and environmentally responsible.
This devotion to sustainability is a common thread through our courses, our research, and the high-level expertise of our staff.
An island of originality
Beyond the Inveresk creative precinct, our students live and learn in a place of extraordinary natural beauty, inspired by our living laboratory, and Tasmania's thriving creative sector.
When you're surrounded by exceptional natural beauty, and connected with our bustling creative environment, you can't help but immerse yourself in innovation, passion, and a drive to shape the world.
Socially and environmentally responsible design is the centre of our ethos. Apply now to study Architecture and Design at the University of Tasmania.

TAGS:
Architecture-and-Design-Students
College-of-Sciences-and-Engineering
School-of-Technology-Environments-and-Design
Architecture-and-Design
School-of-Technology-Environments-and-Design-Students