A career where you never get bored
19 December 2018
Gaining the knowledge to make a positive difference in the world.
Kristy Stevenson is seeking a career where she can travel and use her skills and knowledge to make a positive difference in the world. This is what drew her to study a Bachelor of Agricultural Science at the University of Tasmania.
Ag is one of those careers where you can change your path so many times, there are so many different areas you could move into. I feel like it is a career where you would never get bored.
"You don't just have to be a farmer, you can do research, or you can be an agronomist or an advisor, there are so many different places you can take it.
After graduating, Kristy plans to take the skills she has learnt in her degree and travel overseas to work in community development.
"I want to work alongside communities to develop and maintain sustainable agricultural systems"
"There are so many bad things happening in the world. You turn on the news and it can feel really negative, I want to use the skills I'm learning at uni to try do something positive."
Not coming from a background in agriculture, Kristy admits she has surprised even herself at how much she has enjoyed the degree.
"I've really enjoyed the fact that it is a practical skill, you get to be outside learning skills that are useful in a variety of industries and in everyday life.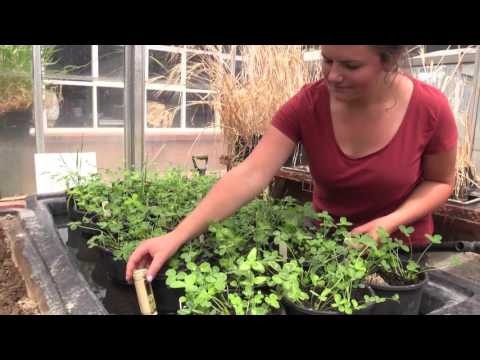 Everything you're learning about has impacts in the world. Everyone has to eat, wherever you are, so it is such a relatable field to be in.
"It is great to be involved in something that crosses so many countries and so many different contexts.
Students studying agricultural science at the University of Tasmania enjoy the advantage of having direct links with industry, through research institutes like the Tasmanian Institute of Agriculture (TIA).
Before commencing her final year, Kristy was offered a Dean's Summer Scholarship to work with staff at TIA on waterlogging trials.
"I am interested in pasture science and weed ecology and was lucky enough to get to work with TIA at the Mount Pleasant Labs.
Everyone at Mount Pleasant was great and I got to see what it is like to be a researcher in agriculture.
"During the degree, I took a crop physiology unit, and it was cool to be able to take some of the skills and knowledge I gained from the unit and apply them to my own experiment.
The University of Tasmania offers two undergraduate bachelor degrees in agriculture. A four-year Bachelor of Agricultural Science or a three-year Bachelor of Applied Science (Agriculture and Business).
TAGS:
College-of-Sciences-and-Engineering
Tasmanian-Institute-of-Agriculture
Agricultural-Systems
TIA
Agricultural-Systems-Students
student-experience