Studying agriculture in Tasmania just makes sense
19 December 2018
Agricultural Science graduate MengYong loves nature and getting hands-on with research and science.
MengYong Lim made the decision to move to Tasmania several years ago and says he doesn't regret it for a minute.
In 2015, MengYong moved from Malaysia to the beautiful shores of Tasmania to study a Bachelor of Agricultural Science at the University of Tasmania.
"The thing that drew me into Tassie would probably be the outdoors that it has and the beautiful scenery.
Since I wanted to study agricultural science it made a bit more sense to come to Tasmania because you get to go to so many places within travel distance. It is different to the other big cities, you get to experience more.
"You go to an orchard, then you switch and go to a farm, and then an aquaculture business. There are so many different places and different things all aggregated in the one place.
"When people think about agriculture they might think about farming, animals and crops, but we get to learn so much more than that. We get to learn about soil, insects, microbes, and disease management.
Students studying agricultural science at the University of Tasmania also enjoy the advantage of having direct links with industry through the Tasmanian Instituteof Agriculture.
MengYong says he loved having the opportunity to meet with industry leaders first hand.
"We get to go out on field trips and visit properties and businesses. It is very cool.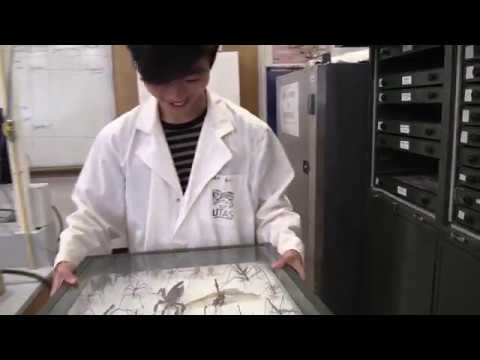 I like listening to the manager or owner of the property. It has been wonderful hearing them talk to us about their experience.
MengYong has a passion for insects and took the opportunity to be involved in two research projects, alongside his studies.
"I've always loved insects, animals, wildlife, and plants. I've been really interested and fascinated with insects and microbes in my degree.
"I was involved in two projects - one was with the honey bees. We got to do lots of really cool stuff like tagging bees, looking for the queen bee, separating hives and making up bee frames.
"Aside from the bee work I also had the chance to be involved with a project that is ongoing in New Zealand on leaf beetles.
I think it has been a really good experience to be able to be involved in research alongside my studies, so I got to get a feel about how research really is in the science sector. I think that is a very good advantage.
You can work as a horticulturalist or an agronomist, but you could also be a soil scientist, or a researcher. I even have a friend who works in a bank as a rural officer. The options are very diverse and never ending it just depends on what your interest is in.
"Tassie is also just a beautiful place. Outside of my studies, I get to go out bushwalking and see the beautiful scenery, the mountains, the rivers, the waterfalls. I don't regret my decision to come to Tassie. It has been a wonderful experience."
The University of Tasmania offers two undergraduate bachelor degrees in agriculture. A four-year Bachelor of Agricultural Science or a three-year Bachelor of Applied Science (Agriculture and Business).
TAGS:
College-of-Sciences-and-Engineering
TIA
Tasmanian-Institute-of-Agriculture-Students
Tasmanian-Institute-of-Agriculture
student-experience