Associate degree is a great all-rounder
25 June 2018
It's "enlightening, relevant," and "hands-on".
Jason Schmidt is used to keeping a lot of balls in the air. He holds multiple jobs, is a committed volunteer, a devoted father and a hard-working University student.
Jason is studying the University College's Associate Degree in Applied Business (Sports, Recreation and Leisure Specialisation).
"My main job is working for Special Olympics, creating new programs for people with disabilities, but I have several roles and volunteer positions."
With so much on his plate, Jason is lucky his study supports both his work and his volunteer pursuits. And it's flexible enough to fit around his busy schedule.
Studying in blocks
Jason is skilled at juggling a crowded schedule, and has worked out a system: studying in "blocks."
"I might smash out a big lot of study in three or four hours, then I won't look at it until next week. It's just the way I work."
Jason came across the course on Facebook one day, had a look and thought it was perfect for him.
It's not completely full-on. You've got time to do other things like work, and of course I've got kids as well.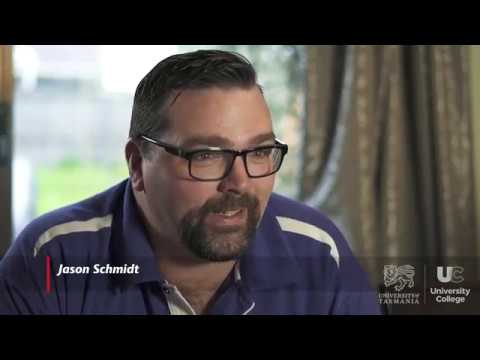 "The staff have been really supportive and understanding. They understand that I'm busy. They know their stuff, and they know how to get the information across to you. It's been absolutely fantastic."
Jason said the course itself has been both "enlightening" and directly relevant to the work he does.
A cup for everyone
One of Jason's biggest passions is the Hurricane Inclusion Cup, a disability cricket program he created around 15 months ago. The cup connects with disability services to give people with a disability the opportunity to play cricket in a fun and inclusive environment.
"We developed a pathway program from these disability services, people with quite high-end needs including those who are non-verbal, or people who are deaf. We've got just over 60 participants in the south and almost 30 in the north," Jason said.
For Jason, the best part about the cup is watching people smile.
"They love it. They're engaged. People who have serious social issues all of a sudden become quite socially active."
A truly practical course
While Jason is studying he knows his University work will feed directly into his career work.
"I was at a workshop two weeks ago and they were teaching us about language techniques. I'd just spent all day in meetings with people from Special Olympics and my job was to find out their needs and link them with sporting services."
Jason said what he was being taught were the exact communication skills he needed for the meetings he just had, and the meetings he'd have later the same week.
 "It just absolutely flowed beautifully into what I was doing.
"If you're tossing up between the associate degree and the degree, this is a really good all-round program just to get you going.
It will expose you to all facets of the sporting industry which is what I've loved about it. It's really opened up my eyes.
"If you want that bachelor degree later on, go for it. But this is really hands-on, it's not overwhelming and you're right in the guts of it."
Find out more about the Associate Degree in Applied Business here.
TAGS:
applied-learning
Students
UC
applied-business
associate-degree
student-experience
University-College