Applied degree is a slam dunk
07 June 2018
Flexible, fun and fit for industry.
 Jack Soward loves sport, so it's no surprise he needed a degree that let him jump right into the sporting industry.
Jack is studying the University of Tasmania's Associate Degree in Applied Business (Sport, Recreation and Leisure Specialisation) with the University College.
At the same time, he's working as Commercial Operations Assistant at Melbourne United Basketball Club.
For a while Jack studied to become a teacher, but he found that wasn't quite right for him. He saw the associate degree, and when he realised it would allow him to study sport, he was hooked.
"I was really interested in studying something around sport. It was something that sounded like it would benefit me going forward, especially the applied nature. That was what eventually swayed me."
Because Jack is already working in the industry, he's continuing to develop his skills –just when he needs them the most.
"The best thing about working in the industry is that it's still progressing my associate degree.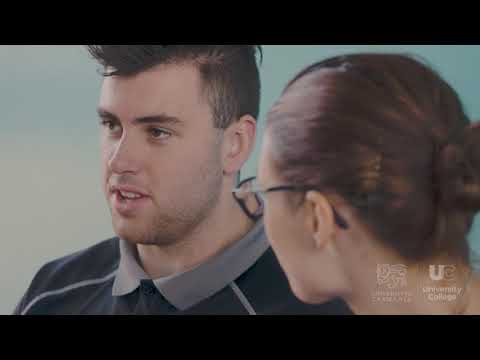 I think it was in the third week I actually had a direct crossover with something I was doing at work and I ended up doing an assignment on that the next week, so that's pretty cool.
"I firmly believe I wouldn't have lasted two days in Melbourne if I hadn't done this degree," he said.
"The fact that I was required to hit the ground running on my first day, I wouldn't have been able to do that had I not done an applied degree first. The skills they equip you with are very hands-on."
And while juggling work and study can be tricky, Jack is making it work.
"I'll be on the train to work trying to get through an assignment or on the way back from work, I'll be home and get straight into it.
"The University staff have been incredibly helpful. They were fantastic. To be able to give someone a phone call in the middle of the day very stressed and for them to help me through that was fantastic. They were able to say 'we understand.'
Jack said anyone looking for a flexible course that will give them the skills to go right into industry should think about an associate degree.
"Through our workshops we had simulation job interviews, simulation contract meetings, and a lot of realistic exercises that were really good," he said. 
Everyone learns very differently but a lot of people that have done the degree with myself have said they love being able to read something but then instantly put it into a real scenario.
While Jack has enough on his plate right now with bouncing from work to study, he's already thinking about his future.

"I'd love to one day work in the NBA over in America, which is a very bold dream but it's something I've thought about since I was a lot younger. To be able to do that would be amazing."
Find out more about the Associate Degree in Applied Business here.
TAGS:
University-College
applied-learning
students
business