The top 5 things to do at Hobart Open Day if you're keen on health
24 July 2018
Open Day is just around the corner!
If you're hoping to one day become a doctor, a nurse, a paramedic, or even a medical researcher, there's a very healthy amount of information and fun activities on offer at the University of Tasmania's 2018 Open Day in Hobart for you. Here's our top picks of the many great events scheduled.
1. Teddy Bear Hospital
While you might not be bandaging up many bears as a medical practitioner, the Teddy Bear Hospital really demonstrates the importance of a good bedside manner. This fun and furry activity sees our fantastic Medicine students demonstrate the educational Teddy Bear Hospital, an innovative child-focused outreach program designed to take the fear out of medical procedures and visits to the doctor. See teddies undergo operations and go through their own teddy-sized MRI.
When: All day.
Where: Medical Science Precinct, Room 118, Medical Sciences, Building 1.
2. Medical Science Precinct Tour and Demonstrations
If you haven't been into the amazing Medical Science Precinct in the Hobart CBD, take this opportunity to see inside this purpose-built, multi-million dollar health hub. Our Medicine, Nursing, and Paramedic students study here, alongside world-leading medical researchers. The facilities include state-of-the-art laboratories, simulated hospital rooms, and there's even the chance to peer into the past via some of the building's architecturally innovative features.
When: 10.30am and 1.30pm. (Tours take 30 minutes.)
Where: Medical Science Precinct, bottom of Building 1 stairwell.
3. Being a Paramedic: Live Demonstration
Watch our Paramedic Practice students do their thing in this medical emergency simulation! See the expertise and quick-reaction times that make paramedics some of the most extraordinary practitioners in the health industry. You can also check out our very own University of Tasmania ambulance where our students hone their skills.

When: 11am to 11.30am and 2pm to 2.30pm.
Where: Medical Sciences Precinct, Bottom of Building 1 stairwell.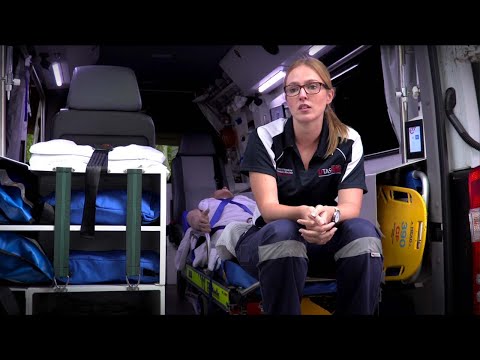 4. Finding Fluorescent Proteins with Menzies
This event gives you the chance to experience life as a medical researcher and make your own discoveries. The Menzies Research Institute Tasmania is an institute of the University of Tasmania, and has some of the world's most extraordinary researchers and scientific work. If you're passionate about science and medicine, or if you just enjoy learning something fascinating, come along to this activity.
When: 11am and 2pm. (Demonstrations go for 30 minutes.)
Where: Medical Science Precinct.
5. Postgrad Health Lounge
Postgraduate study is one of the most rewarding paths for Health students to take once they've completed their undergraduate studies. Postgrad is a great option for people interested in changing careers, adding to their existing qualifications, those keen on a PhD, and anyone with a love of learning.
Visit the Postgrad Health Lounge, grab a complimentary coffee, and hear from the postgrads themselves about their study experiences.
When: All day.
Where: Medical Science Precinct.
Register now for Open Day and enter our Gap Weekend comp! You will go into the draw to win stacks of great prizes, including a Nintendo Switch, GoPro Hero, iPad Wi-Fi 32GB! You can also create your own personalised Open Day timetable.
Find out more about studying Health at the University by visiting our course guide.

TAGS:
Menzies-Institute-For-Medical-Research
community
College-of-Health-and-Medicine
Open-Day-2018
health-science
Health