The top 5 things to do at Hobart Open Day if you're keen on science
25 July 2018
Open Day is just around the corner!
It's creative, it's innovative, it's inventive and it's all over our Hobart Open Day. It's science!
If you're keen on nature, adventure, discovery and innovation, there's a strong chance you're a secret scientist. We'll have stacks of information, fun activities and demonstrations that show you how fascinating it is to study the sciences.
Here's our top picks for discovering science at Hobart Open Day.
1. AMC Sailing Simulator
Ahoy! Have you ever sailed a ship through a tricky harbour? If so, you've probably already studied at our Australian Maritime College. If not, this super-realistic simulator will give you the chance to captain your own ship! Try the simulator and find out about our Maritime Studies courses and how you can apply for study.
When: All day.
Where: Engineering marquee, Grosvenor Crescent.
2. Antarctic Festival featuring IMAS Salamanca
As the gateway to the Antarctic, Hobart is one of the best places in the world to study marine science.
Visit our stunning, purpose-built Institute for Marine and Antarctic Studies (IMAS) building and find out about our Marine and Antarctic courses. Because what science student wouldn't want the chance to travel to Antarctica as part of their studies? While you're there, enjoy the Antarctic festival and celebrate everything icy!
When: All day.
Where: IMAS Salamanca, Hobart waterfront.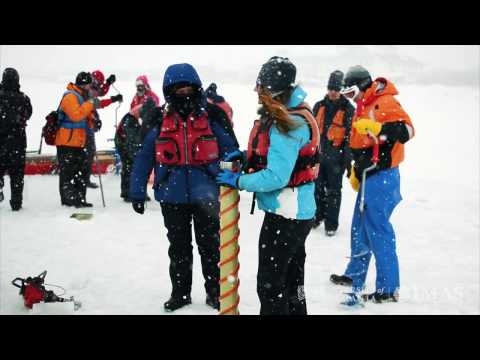 3. The Science Show
Is it magic, or it is science? The Science Show has been a hugely popular event at our Open Day over the years. Come and see why! The Science Show demonstrates how the laws of the natural world are just as mind-blowing as magic…! Prepare for explosions, dry ice and a lot of fun. Presented by our Science postgraduates, stick around after the show to ask questions about studying at the University.
When: 10.30am, 12.30pm, 2.30pm.
Where:  Chemistry Lecture Theatre.
4. Shaping the World with Agriculture
Agriculture is now one of the most technologically-driven industries. Come to this event at Open Day and find out about the exciting study and career options in agriculture. Staff and students from our Tasmanian Institute of Agriculture will be on hand to chat and offer advice- and don't forget to pick up some fun freebies.
When: All day.
Where: Agriculture marquee above Trade Table Cafe.
5. Shape, Design, Build and Power the world with Engineering
Do you know that the word "engineering" comes from the Latin terms for "cleverness" and "contrive"? If you're someone with a strong interest in science and a creative streak, come along to the Engineering marquee and learn about how hybrid energy projects are powering remote locations, meet the University motorsport team (and see the race car they designed and built themselves) and find out how engineering can help the environment.
When: All day.
Where: Engineering marquee, Grosvenor Crescent.
Register now for Open Day and enter our Gap Weekend comp! You will go into the draw to win stacks of great prizes, including a Nintendo Switch, GoPro Hero, iPad Wi-Fi 32GB! You can also create your own personalised Open Day timetable.
Find out more about studying Science at the University here.

TAGS:
College-of-Sciences-and-Engineering
community
Australian-Maritime-College
Open-Day-2018
agriculture
Tasmanian-Institute-of-Agriculture
AMC
TIA
science
CoSE