The top 5 things to do at Hobart Open Day if you're a creative genius
25 July 2018
Open Day 2018 is just around the corner!
The world needs more artists, communicators, and creatives, and right now in Tasmania is the best time to embrace your vision.
If you want to become a reporter, a blogger, a performer, or a designer,  check out these events at Hobart Open Day and get the information and inspiration you need to make your dreams come true.
1. The Sensational Media Studio Experience
Breaking news! Our brand new Media School is ready to open its doors! This facility in Hobart's iconic Salamanca Square gives Media students access to industry-grade equipment and excellent preparation for careers as reporters, journalists, creatives and more. Be among the first to see this awesome new space at Hobart Open Day!
When: All day.
Where: The Media School, Salamanca Square, Hobart CBD.
2. A Bevy of Larks: Creative Writers on Writing
The power to fascinate and move a reader through creative writing is an amazing skill. If you have a natural aptitude for writing, or you just love books and stories, come along to Bevy of Larks. This panel, moderated by Tasmanian author and academic Dr Danielle Wood, will inspire you to write your own works of art, and give you the chance to ask the writers what inspires them.
When: 12pm.
Where: Humanities Hangout, outside Lazenby's cafe.
3. Ogoh-Ogoh: The Backstory and The Feast
Our Creative Arts students participate in Dark Mofo every year, and one of the most incredible exhibits is the annual ogoh-ogoh. This Tasmanian version of a traditional Indonesian ritual object has a fascinating folklore and history. Come along to this event to hear about the mechanics of making a monster! This event includes a mini ogoh-ogoh procession AND delicious Indonesian street food.
When: The Procession ends near School of Creative Arts Mainstage at 12:15pm.
Where: The Backstory and The Feast (Kaki Lima Indonesian Street Food) Humanities Hangout in front of Lazenby's.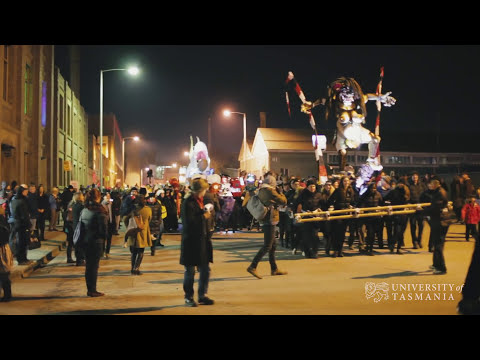 4. A Tin of Mixed Biscuits
This deliciously zany performance will show off the considerable creative skills our of Theatre students. While studying Theatre at the University, our students have the opportunity to act, write, direct and stage real plays for the community. Come along to enjoy the fun and stick around after to ask the performers about studying their craft at the University.
When: 12pm.
Where: Centenary Lecture Theatre, Centenary Building.
5. Drawing by Remote Control Car
Some artists throw paint at the canvas. Some paint with their body parts. And at Open Day 2018, we're going to draw by remote control car. Make your own mechanically-driven masterpiece at this fun activity that blends innovation and creativity.
When: All day.
Where: Arts, Music, Theatre Hangout in front of Lazenby's cafe.
Register now for Open Day and enter our Gap Weekend comp! You will go into the draw to win stacks of great prizes, including a Nintendo Switch, GoPro Hero, iPad Wi-Fi 32GB! You can also create your own personalised Open Day timetable.
Find out more about studying Art, Music and Theatre at the University here.
TAGS:
Media
community
Open-Day-2018
Theatre-and-Performance
School-of-Humanities
Dark-Mofo
Music
English
College-of-Arts-Law-and-Education
School-of-Social-Sciences
creative-writing
School-of-Creative-Arts-and-Media
Art