The top things to do at AMC Open Day
08 August 2018
Our Australian Maritime College is set to make a splash this Open Day!
Sail into our world-renowned specialist institute Australian Maritime College this Open Day! If you love technology, shipping, business and innovation, studying at the AMC is an excellent way to combine these interests.
The AMC is host to the largest suite of advanced maritime research and training facilities in the Southern Hemisphere. That means amazing virtual reality simulations, world-leading expertise, and real-life learning experiences. So come along and see the incredible facilities that are available to our students. Here's our top picks for Newnham Open Day 2018!
1. Ships Bridge Sailing Simulator
This state-of-the-art simulator gives you a scarily realistic experience of sailing a ship into the busy traffic of Sydney Harbour. See how your captain skills fare!
When: All day.
Where: Centre for Maritime Simulations.
2. Alumni: Where are they now?
Our graduates have exciting careers all over the world. Come along to this Q and A to hear about their journey from study to industry, and find out how you can plan your own career. Choose a session based on your area of interest, or attend more than one.
When:
Maritime Engineering, G47: 11am-11.30am, 12.30pm-1pm, 2.30pm-3pm.
Ocean Seafaring, Shipping Operation Cubicles: 10-10.30am, 11.30am – 12noon, 1pm – 1.30pm, 2pm-2.30pm.
Maritime Business and International Logistics, G71: 10.30am -11am, 12noon – 12.30pm, 1.30pm – 2pm.
Where: Swanson Building.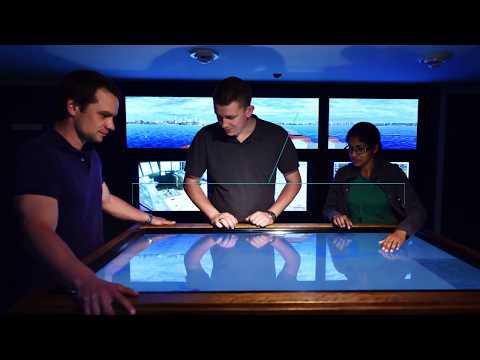 3. Hook, Line and Sinker at AMC
Come and say hi to Andrew and Nick from the Hook Line and Sinker TV show. These two local legends of fishing will provide entertainment and info all day as they welcome you to our AMC campus.
When: All day.
Where: Swanson Building.
4. Shipwrecked: Survival at Sea
Ever wondered what happens on board a ship in an emergency? Would you be able to safely evacuate into the water in a distress situation? Watch our seafarers safely abandon ship in a simulated emergency response situation.
When: 10.30am, 11.15am, 12pm, 12.45pm, 1.30pm, 2.15pm.
Where: Survival Centre.
5. AMC student life with the AMC Student Association
Hang out with the AMC's Student Association and find out firsthand what it's like to live and study on campus at AMC. Chat about all the extra-curricular activities they get up to outside of study while you chill out and listen to some live music from our talented students.
When: All day.
Where: AMC Seafarers Bar and Courtyard.
6. Maritime Engineering Facility Tour
Take a look behind the scenes at AMC's world-class Maritime Engineering and Hydrodynamic facilities and see the testing and research facilities used by students and industry alike.
When: 11am-11.30am, 12.30pm-1.pm, 2.30pm-3pm.
Where: Meet at AMC Welcome Point.

Register now for Open Day and enter our Gap Weekend comp! You will go into the draw to win stacks of great prizes, including a Nintendo Switch, GoPro Hero, iPad Wi-Fi 32GB! You can also create your own personalised Open Day timetable.
Find out more about studying Maritime Studies here.

TAGS:
AMC
maritime-studies
community
Australian-Maritime-College
Open-Day-2018