From a childhood dream to the newsroom
11 September 2018
Training the journalists of the future.
Erin Cooper always knew she wanted to work in media, ever since she was a child.
"When I was nine years old, we had a student teacher visit the classroom at my primary school. She taught us about the newspaper, and from that moment onwards I always wanted to be a journalist.
"I love writing and I love learning about new things, so journalism has always appealed to me. I think journalism is so important for government and other powerful institutions to be held accountable to the public — journalism's role as society's 'fourth estate' is something I really believe in."
Erin is in her third year of the Bachelor of Media and Communication at the University of Tasmania, majoring in news and journalism. She is also already working with the ABC in Hobart.
I've worked with the ABC here in Hobart as a journalist and news operations assistant for radio and online since February 2017, so I've been there for about 18 months.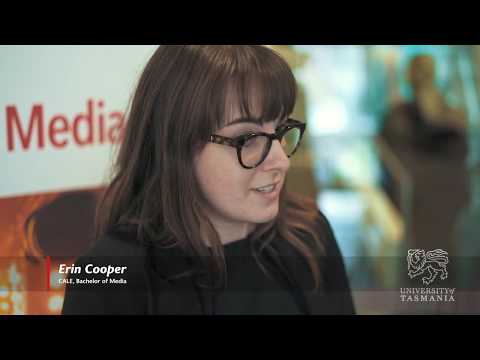 "It's been a great experience to be able to work in the industry while still studying."
The University of Tasmania has recently opened The Media School in Hobart's Salamanca Square. Situated alongside the offices of The Mercury, Hobart's biggest newspaper, The Media School is ideally located for students to learn first-hand from a real newsroom, with access to cutting-edge facilities and industry-standard equipment.
The Media School is the perfect place to get a practical education in media. Learning media theory is important too, but increasingly as we go into the workplace, we need to have lots of really practical skills.
Erin's ultimate ambition is to become a foreign correspondent.
"I'd love to work in the Middle East or maybe Asia with a big news company like the ABC, BBC, or Al Jazeera," she said.
"Regardless of where you want to go in the industry, The Media School can give you what you need to get there."
Find out more about studying Media and Communication today.
TAGS:
Media-Students
Media
Bachelor-of-Media
College-of-Arts-Law-and-Education
School-of-Creative-Arts-and-Media
student-experience