How education can improve lives
20 September 2018
Annette Branch hadn't been in the classroom since she was 18, but she has rediscovered a love of learning with the University College.
Annette Branch's advice for returning to study after a 40 year break? Just jump in.
"Just do it. It's great," she said.
I'm two years into the study and now definitely have a work/life/study balance. You can fit it in easily.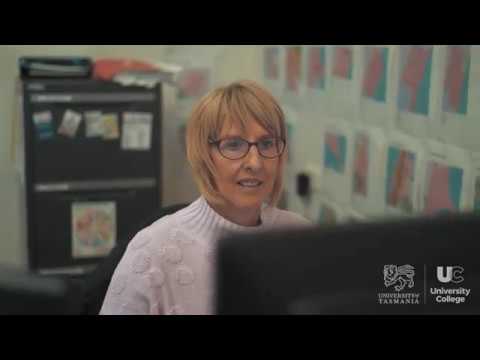 Annette, 54, is studying an Associate Degree in Applied Business at the University College at the University of Tasmania. Since enrolling at the University she's discovered a love of learning, a drive to succeed, and secured a higher-paying job.
"I found myself three years ago single, unemployed, without a formal qualification, and with a Mental Health Plan," she said.
"I needed to look at my life and think 'where am I headed, what am I going to do?'"
Annette found out about the associate degree while working for the Department of Education. Having previously co-managed a successful business she had a lot of skills, but not as many qualifications as she wanted.
"I'd been a company director, I'd managed a commercial property and I'd worked in bushfire recovery, but I basically had a Certificate II in Administration.
I felt that being single and in my fifties, I wanted to build a good superannuation plan, and so I thought 'I really need to get a formal qualification.'
The University College was the perfect place for Annette to build on her existing skills, and learn a few more.
"The University College is incredibly supportive. There's people and procedures in place to really support you to do well.
"I love the diversity in the classroom. It varies from kids straight out of school up to those of us that are a bit older and further on into our careers," she said.
Annette now works for the Legislative Council as an Electorate Officer for Sarah Lovell, Labor Member for Rumney, who she says is very supportive of her study goals.
Attending University College has rebuilt my confidence. Myself and my family are now going to have a lot better future thanks to the associate degree.
"I am a living example of how education can improve lives."

Find out more about the University College here.
TAGS:
applied-learning
non-school-leaver
UC
business
applied-business
student-experience
University-College