Architecture project makes (sound) waves at Mona Foma
15 October 2019
How thinking inside the box for this project paid off.
We've all heard that creativity means thinking outside the box.
But this adage was tested when Architecture and Design students were set the challenge of making a recording space/performance stage for Mona Foma 2019 out of a shipping container.
Armed with great access to a huge range of traditional and modern fabrication equipment, and the passion and knowledge of their tutors, the students went from design to building in just two weeks in late 2018.
Mona Foma was held in Launceston for the first time in 2018, with one of its main locations being directly outside the Architecture and Design school at the Inveresk Campus.
The structure, SOMA, was fabricated in a Learning-By-Making elective led by the University of Tasmania's Peter Booth and Marty Bignell, in partnership with Mofo, Mona Foma, with Mofo Directors Brian Ritchie and Lee Cumberlidge involved at every stage.
For more than 20 years Learning-by-Making projects have let University of Tasmania Architecture and Design students to put their design knowledge into practise, and thanks to our close connections with the Tasmanian creative scene, offer unique opportunities for collaborations with festivals like Mona Foma.
Mia Kealy, who is studying a Bachelor of Architecture and Built Environments, said the project gave students a sense of pride.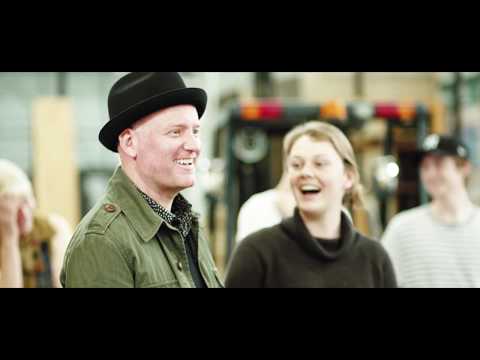 I think when we got to watch Brian Ritchie perform in the booth in the workshop it was a moment of gratitude and pride in what we'd achieved in such a short period of time.
The project was much like the festival itself: unusual, unexpected, and demanding of attention.
"The musicians love it, the public: their imaginations are captivated by it. It's a perfectly successful collaboration, I couldn't be happier," said Mona Foma curator Brian Ritchie.
The booth impressed Ritchie so much, he's lending the project out for the rest of the year. 
We're going to use it a lot more for Mona Foma and we're going to let other people use it during the year because we believe in this project so much, we want it to get used as often as possible.
When students can create a design good enough to wow an internationally acclaimed artist, you know they're truly thinking outside the box.   
I feel like it was a fantastic experience that I highly recommend that everyone get involved in.
Find out more about studying Architecture and Design.
TAGS:
College-of-Sciences-and-Engineering
Architecture-and-Design-Students
Architecture-and-Design
School-of-Technology-Environments-and-Design-Students
School-of-Technology-Environments-and-Design
student-experience