Why plastic plants are blooming on campus
31 July 2019
Ecological recycled plastic sculptures emerge around Inveresk.
Banner image: Growing Seed Point 1, by Dr Linda Erceg.
Big, twisting leafy vines made from irrigation pipe and cable ties are the newest addition to a growing art installation project at the University of Tasmania's Inveresk campus.
Artist and University of Tasmania Creative Arts lecturer Dr Linda Erceg used Inveresk campus buildings as a canvas to express the biological structures that underpin ecological life forms.
Morphologica: An Ephemeral Art Project was a part of the University of Tasmania's Northern Transformation program and this evening Dr Erceg's second installation will be officially opened in the Architecture and Design building foyer, Inveresk.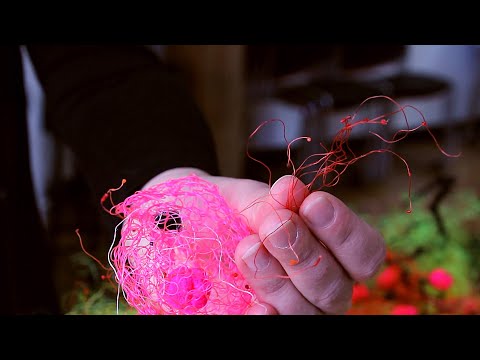 "The University of Tasmania believes that it is important for communities to have access to art and cultural experiences. The revitalisation of the Inveresk Precinct gives us an opportunity to facilitate such access while supporting the Tasmanian art ecosystem," Project Academic Lead Dr Kim Lehman said.
The University sees a very clear link between art, creativity and innovation and our involvement in this public art commission reflects this.
The sculptures were created from recycled plastics, including game fishing line, drinking straws, garden tubing and mesh, cable and truck rope, rubber, irrigation polypipe and cable ties.
Dr Erceg said while she starts with a detailed architectural plan for each site, the final sculpture evolves in response to the space she is working in.
"Each of my six installations – or Seed Points – is an ecological response to a different architectural or urban site at Inveresk," Dr Erceg said.
In creating the first Seed Point, I worked with pod and branch forms at this site to create an overhead canopy that suggests an organic ecosystem – a spidery lair or a floating marine world.
Seed Point 1 was seen inside the Architecture and Design building location and winding up through the entrance ramp, while the leafy vines of Seed Point 2 twist over and around the banner poles framing the entrance of the School of Creative Arts and Media.
"Through experiencing my art, I want people to think about the plastic materials that come and go in their lives, their beauty and also the potential for ecological damage," Dr Erceg said.
Commissioned by Arts Tasmania's Corporate Art Scheme, the project concluding in April 2020.
TAGS:
Art-Students
Northern-Campus
Schools-and-Community
CALE-Research
College-of-Arts-Law-and-Education
CALE-Research-Regional-and-Rural
School-of-Creative-Arts-and-Media
Art