Antarctica and the ties that bind
01 December 2021
Hobart is one of the world's five Antarctic gateway cities. How do we make the most of this?
The recent arrival of the impressive new icebreaker RSV Nuyina to Hobart's port is a reminder of the city's strong connections to the south and long history of welcoming polar vessels.
As one of only five Antarctic 'gateways', our city has an important role to play in linking the rest of the world with the South Polar region, not only through supporting the logistics of scientific expeditions, but also by acting as a hub for political, economic, and cultural activities. 
But in policy documents and official communications, our "gateway" identity is often focussed on the people, goods and vessels who pass through the city in vessels such as the Nuyina. What of those who live here? What do the people of Hobart think about their city's connection to Antarctica?
As part of the Antarctic Cities project – an Australian Research Council funded project undertaken collaboratively by Western Sydney University, UTAS, Hobart City Council, Antarctic Tasmania and a number of other partners in Chile and New Zealand – we surveyed over 2500 people across the five "gateways." 
The results were revealing. Over 70% of people surveyed in the cities considered Antarctica important to their city's identity, with the strongest result in Ushuaia (Argentina) and the weakest in Cape Town (South Africa). But nearly as many people said they felt ill-informed about the region. Hobart respondents told us that their primary concern about Antarctica is the impact of global warming and ice melt, although they are also worried about increasing commercial activities and geopolitical tensions. 
The same people who support environmental protection also consider Antarctica an important part of Hobart's economic future, suggesting that economic development and environmental protection can work hand in hand. Most strikingly, over 90% of people surveyed felt that Hobart should play a significant role in the custodianship of Antarctica's future. Hobartians aren't just connected to the far south by virtue of inhabiting a port that ships and planes travel to and from; they care about the ice continent and want to look after it.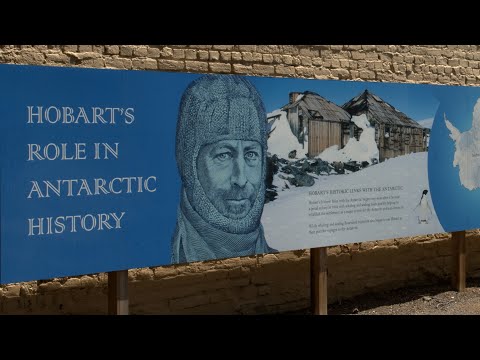 The embrace of custodianship in the survey, alongside the fact that many citizens feel ill-informed about Antarctica, raised questions for us. In Hobart we have Antarctic-related scientific research institutes, museums and public memorials, but we cannot afford to rest on our laurels.  
The other cities are pushing ahead at engaging their citizens and visitors. Christchurch's International Antarctic Centre not only promises the novelty of a blizzard room where you can experience Antarctic conditions, but also offers educational visits and school holiday programmes. In Ushuaia, the Antarctic tourism capital, souvenir shops, kitsch penguin statues and exhibits on Antarctic exploration in the maritime museum. And Punta Arenas has just confirmed a $109 million investment in a new Antarctic centre on its waterfront, which will combine science and logistics with interactive engagement, including a replica Antarctic prehistoric forest and simulated polar conditions.
How can we ensure that Hobart's Antarctic connections are equally visible to its citizens and its visitors? And how can we do this in a way that is distinctively Tasmanian? 
The planned Antarctic and Science Precinct at Macquarie Point provides a once-in-a-generation chance to deepen and strengthen Hobartians' connections to the far south. We should aim to provide a place where any citizen can become part of the Antarctic community, encountering, expressing and exchanging views about Antarctica. 
A place that incorporates local businesses and institutes more actively: where tourists can drink Antarctic-themed versions of artisanal spirits, watch researchers at work, or even don penguin suits to support proposals being made at the Commission for the Conservation of Antarctic Living Marine Resources meeting, which happens annually in Hobart. 
A place that offers a 'hands on' connection to the far south – for example, through a saltwater pool kept at the subzero temperatures of the Antarctic ocean, that would allow anyone brave enough to vicariously experience the traditional "polar plunge" in a very bodily sense. After all, the ocean that Hobartians so enthusiastically dive into is the same one that freezes against Antarctica's coast. A place where we could hold regular events involving our resident and visiting Antarcticans – not just scientists, but also artists and writers, tradies and cooks.
 A place where people could be part of the Antarctic community not because they have been to Antarctica, but because they want to help protect its future. There are lots of innovative ways to enhance our ability to connect with the far south without threatening its fragile environment.
We are currently conducting a two-minute questionnaire to explore the different kinds of connections people in around Hobart have to Antarctica and understand what forms of engagement they would like that are currently unavailable. If you live in Greater Hobart, are over 18, we encourage you to share your story. The questionnaire link is available here. Alternatively, drop an email to katie.marx@utas.edu.au or phone the School of Humanities at UTAS on 6226 2255 to find out more.
Elizabeth Leane is Professor of English and Associate Dean Research Performance in the College of Arts, Law and Education. Katie Marx is a PhD candidate in English.
TAGS:
Antarctic-and-marine
IMAS
English
Antarctica
Antarctic-Climate-and-Ecosystems-Cooperative-Research-Centre
Humanities
About Professor Elizabeth Leane
Professor Elizabeth Leane is studying the passion for literature that the hostile continent of Antarctica evokes, and the power in turn of literature to influence what we think and feel about Antarctica. Her work highlights the need for a presence of the humanities as well as the sciences in Antarctic research.
View Professor Elizabeth Leane's full researcher profile