Construction of the new campus building is now complete, and staged works will be continuing in the surrounding area until mid-2022.
Days of site activity: Monday - Friday (excluding public holidays), with occasional weekend work
Working hours: 7am - 5.20pm
Site Manager: Liam von Bibra 0419 157 150 or lvonbibra@fairbrother.com.au
---
Construction Cam
New images are available approximately every 30 minutes click to refresh or a lower resolution auto-refresh stream available here.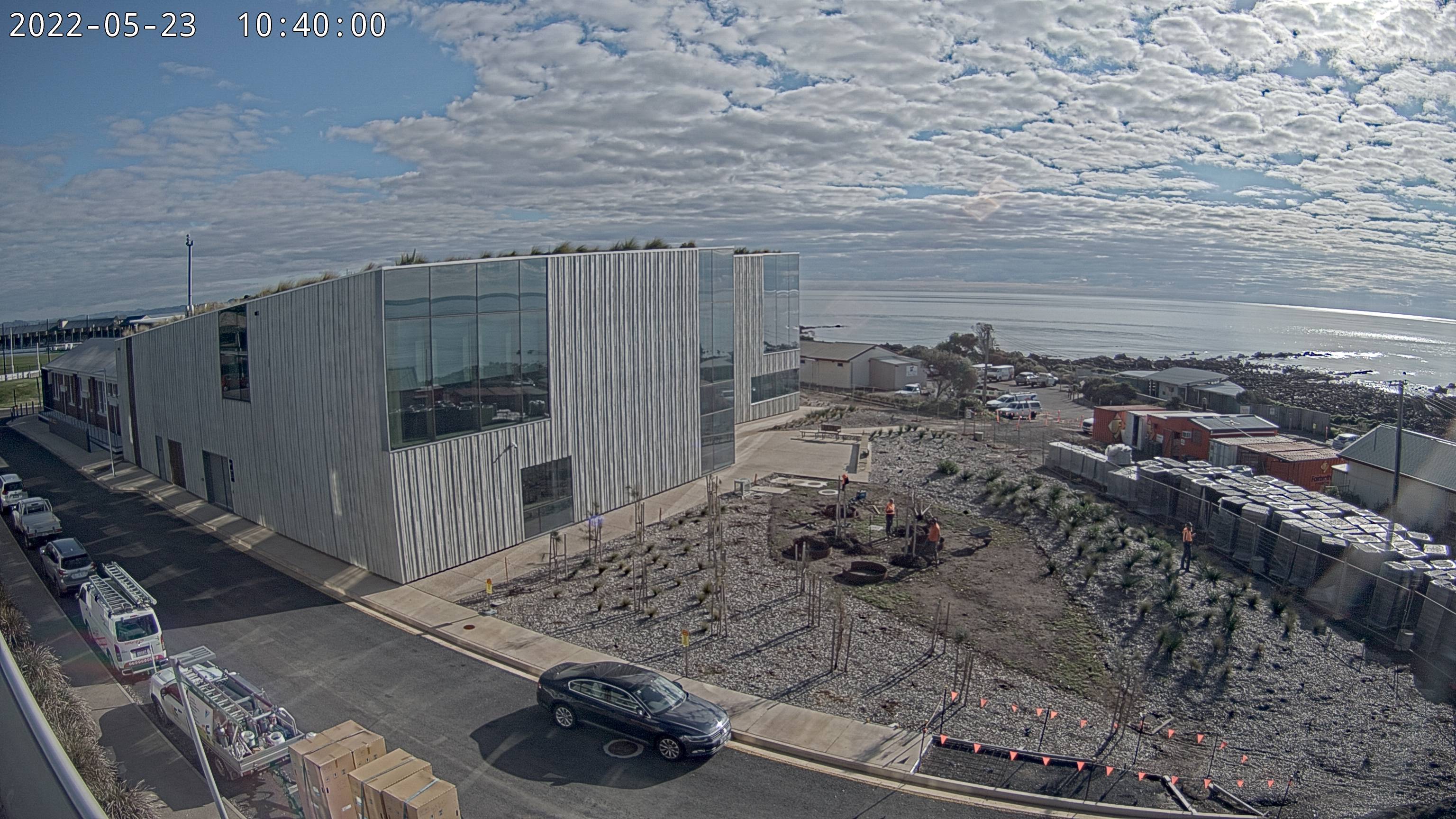 Updates
Staged works are continuing across the wider West Park precinct until mid-2022 to build new facilities for the City of Burnie Brass Band and Burnie Highland Pipe Band, complete the remaining landscaping, and finalise the car park. In consideration of the nearby Little Penguin colony, please note that lighting around the car park will be of a lower intensity and amber in colour.
For safety reasons, vehicle and pedestrian access have been restricted around some sections of the site – please observe signage at all times. We thank you for your understanding and cooperation.
**Wet weather may affect the below timelines **
AREA 1 Campus building, initial landscaping and adjacent parking spaces now complete
AREA 2 Construction of the turning circle and main car park continuing through to late March, 2022. The car park will accommodate all site users, with a permit system to be implemented and monitored during business hours
AREA 3 Eastern end and nearby section of boardwalk due for completion in June 2022
AREA 4 Railway corridor to be converted into a bike path by June 2022
AREA 5 Construction of the new band facilities due for completion in April 2022
AREA 6 Demolition of old band rooms, final landscaping and completion of existing pedestrian path expected by the end of June 2022
Some parking areas at West Park, including for Makers' Workshop, are temporarily being reserved for permit holders between Monday – Friday, 7.30am – 4pm, and these areas are being patrolled. This arrangement is in place while works to finalise the main car park continue. The main car park will accommodate all site users of the precinct and include short-term parking for community members who are visiting West Park. In line with our development approval, parking at West Park is only available for users of the precinct's facilities - city commuter parking is not returning.
For now, visitors to the City of Burnie Brass Band, the Highland Pipe Band, Little Penguin Observation Centre, and Cabin Coffee should utilise the allocated parking close to each facility.
Construction commenced in July on a new $1.7 million facility that will be the future home of the City of Burnie Brass Band and Burnie Highland Pipe Band. Designed with input from members, the development will support each band to continue its community contributions and have an ongoing presence at West Park. The development, which is located on the western side of precinct, is scheduled for completion around April 2022. Members will continue to have access to their existing rooms until construction of their new home is finalised.