PebblePad uses your browser's local storage to store a local version of your work while you are working on it. This helps PebblePad to work faster.
If you move away from an asset or resource without saving it first, any unsaved changes are stored in your local storage. When you next login to PebblePad using the same browser on the same computer, PebblePad might recognise that there is a version of your work in the local store that is different to the version on the PebblePad server. This would occur if you have edited the asset or resource in a different browser or on a different device in the interim. As we do not know which version you want to keep, PebblePad will recover the version in your local storage and save it to your asset store. If this happens, you will see the following message: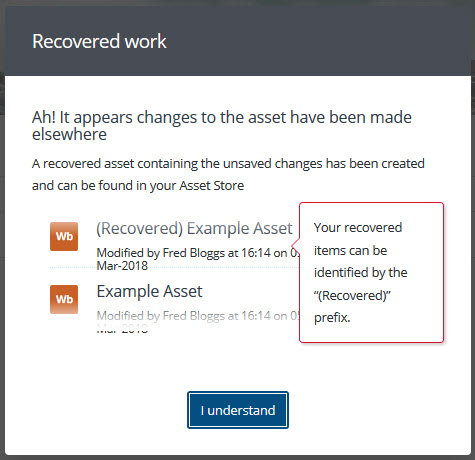 Recovered work modal
When you go to your Assets in your Store (or Resources if it is a Resource you were working on) you will find a (Recovered) asset with the same name as the original:

Recovered asset in store
If the recovered asset has not content in it that you need you can simply delete (and purge) it. If you are unsure if there is content that you need you will need to compare the recovered asset with your original. If there is content in the recovered asset that you need to keep you will need to copy and paste it into the original.
In some cases you might have more information in the recovered asset than in the original. In this case you could keep the recovered asset and delete the original EXCEPT where the original has already been shared to ATLAS for assessment. In this instance you do need to make sure that you keep working in the one that is shared for assessment (it will have the blue 'This asset has been shared for assessment' ribbon at the top) and NOT the recovered asset as your assessors will not be able to see the recovered version.
The very best way that you can avoid any of this happening is to SAVE regularly while you are working and before you close an asset, close the browser, move to another window, log out, or move away from your computer or device. Also avoid working on the same asset or resource in more than one window, browser or device at the one time. It is better to be safe than sorry!!