Uploading
You can upload many types of digital files into Pebble+ using the Upload New option on the Home page, in the Burger menu, in the Asset store, or even while working within an Asset, like a portfolio. All uploaded files are Assets and can be found in your Asset Store.
| Access from | Action |
| --- | --- |
| Home Page - Upload new panel | This opens the file upload tool in a pop up window that overlays the page you are on. |
| Burger menu | This opens the file upload tool in a pop up window that overlays the page you are on. |
| Asset Store - Upload file button | This opens the file upload tool in a pop up window that overlays the page you are on. |
| Portfolio & Profile images | When adding an image to a portfolio or changing your profile picture (from Pebble+ home page) click on the Open asset store button. When the side bar image gallery appears, you will see an Upload tab which, when clicked, will display the upload tool within the sidebar. |
| Add evidence in a workbook or template | When using an 'Add evidence' element, click the Add an asset button. This will open a list of assets in the side bar, where you will see an Upload tab. Clicking this will display the upload tool in the sidebar. |
Choosing a file to upload
From a desktop computer or laptop
The upload tool provides you with two easy ways to select files for upload. You can browse for files in your file manager (e.g. Windows/File Explorer, or Finder in Mac) and simply drag and drop them on the 'Drag a file here' area. Alternatively, clicking 'Or choose a file...' will open up a file manager window for you to browse and select the files you would like to upload. With either option you can select a single file or select and upload multiple files at once.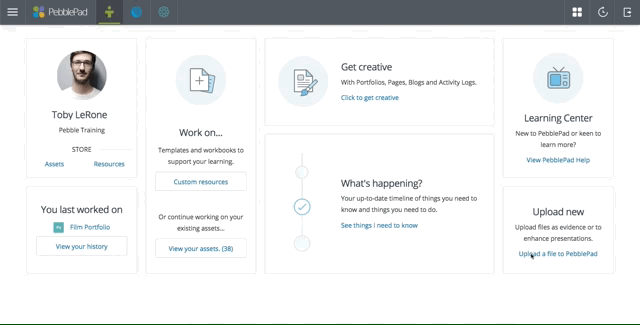 Using a mobile device
If you are going to be uploading from a mobile device there are some restrictions you may need to be aware of. For instance, iOS Apple devices only support upload of video and image files to Pebble+. You may also find you don't get the option to drag files to upload on touch devices as this is often unsupported.
You can also use our app, PebblePocket, to send photo and video assets to your Pebble+ Store.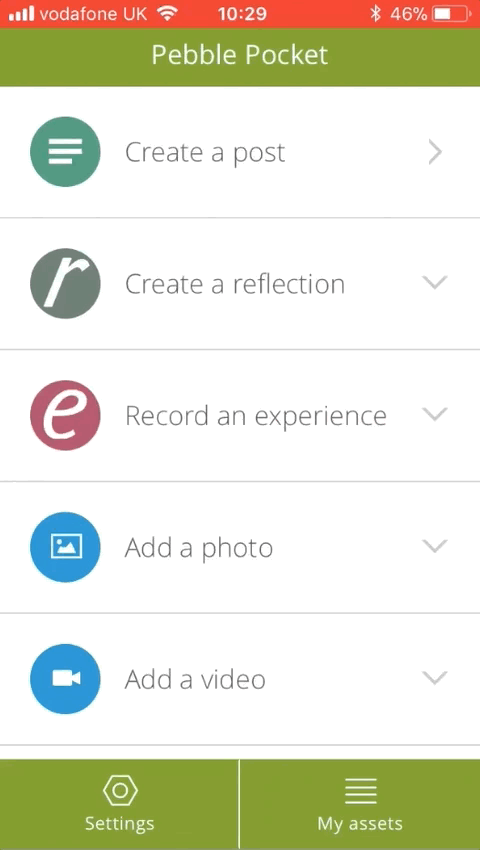 File preview information
When you have selected your file(s) you will see filename and file size information (and a preview for images) for each of the files in your upload page. Each file is then uploaded in preparation for saving. The upload progress bar indicates that the upload is occurring, with the upload process taking longer for larger files. When each file is done you will see a 'your file is ready to be saved' message.
The size of the file will display below the preview area. This will display in bytes, kilobytes(KB) or megabytes (MB) depending on how large your file is.
Change file / Remove options
You can choose to change a file at anytime by clicking the 'Change file' button. This will open a browser window where you will be able to make another selection. You can remove a file from your upload page by selecting 'Remove'. This will remove the file preview from your upload page and it won't be saved to your Store.
Title
If you are uploading a single file you have the ability to change the title for that file. Titles are used to identify your files within the Store. For simplicity we auto-populate this with the existing filename but you can change it to anything you like by changing the text in the field.
If you are uploading multiple files you can't change the individual titles and so the existing filenames are always used. However, you can always change the titles later by going to your Store, clicking the info icon for the file, and editing the title.
Why would you tag a file?
Tagging is a fantastic feature you can use throughout Pebble+ to organise your assets. By tagging uploads you can easily locate them later.
If you are uploading multiple files at the same time you can't change the individual titles for each file at this stage, so tagging these images enables you to group them together and find them more easily.
File size and quota restrictions
Sometimes there can be file size or quota restrictions, in which case you may experience problems uploading large files or a large number of files. There may be a maximum file size set by your institution to prevent users trying to upload very large files. If this happens we will let you know and inform you of the file size limit so you can choose a smaller file or resize the file you are trying to upload. If this is a large image it may be a case of shrinking it down or saving it at a lower quality.
If you have uploaded a lot of files, you may find that you reach your upload quota. This means you would need to remove old and unwanted files in order to make room for new uploads within your Store. Deleted files will be put in your deleted folder. Only when files are purged from this folder will the space be freed up for new uploads. If you reach your quota we will tell you how much space you need to free up in order to upload your file.
Copyright Declaration
You will notice that when you have selected a file to upload you get the following message:
'By uploading this file to PebblePad you are confirming that you are not infringing any copyright conditions.'
This is just a friendly reminder that any content you upload to Pebble+ must not contain anything which could result in copyright infringement.
Video and Audio transcoding
When you upload video and audio to Pebble+ you may find that your file takes a little time to appear. This is because we are transcoding your media into a more supported format. This may result in a small loss of quality but will ensure that whatever device you are on, and whatever your connection speed, you will be able to view your uploaded media.
Supported file types
You can upload many kinds of digital file in to your Pebble+ Store.
Common file types
| Type of file | Supported formats |
| --- | --- |
| Pictures you can upload & embed inside assets | BMP, PNG, JPG, JPEG, TIFF |
| Pictures you can upload | PSD, RAW, CDR, DWG |
| Documents you can upload | Col2DOC, DOCX, DOCM, DOT, DOTX, XLS, XLSX, MDB, ACCDB, PUB, TXT, RTF, HTML, PPT, PPTX, PDF, CSV, ODT, ODS, ODP, ODB, ODG, ODF, WKS, XML |
| Archives that we extract | ZIP |
| Archives you can upload | RAR, 7z, Gz, JAR, DMGk |
| Video & web | H.264, MPEG-4, Theora, VP8, VP6, WMV, WebM, FLV, WMV (wmv, wma), OGG (ogg, oga, ogv, ogx), 3GP (3gp, 3gp2, 3g2, 3gpp, 3gpp2), MP4 (mp4, m4a, m4v, f4v, f4a, m4b, m4r, f4b, mov) |
| Audio | MP3, AAC, Vorbis, WMA, AAC, WAV |
| Advanced formats | Jpeg 2000, HEVC, AVCi, MPEG-TS |