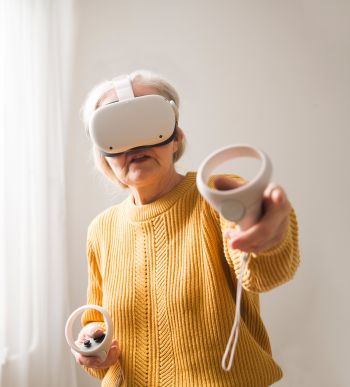 Researchers at the Wicking Dementia Centre and School of Information and Communication Technology (ICT) are developing a virtual reality navigation task in the hopes of using it to identify individuals at risk of Alzheimer's disease years before the onset of clinical symptoms. The project, led by Dr Maneesh Kuruvilla (Wicking Dementia Centre) and Dr Winyu Chinthammit (ICT), aims to investigate aspects of the brain's internal GPS, which might be susceptible to the early stages of Alzheimer's disease pathology.
The current gold standard diagnostic cognitive tests for Alzheimer's disease involve tests of memory that rely on the hippocampus. The hippocampus is a brain region that supports our memory for everyday events and is impacted early on in Alzheimer's disease. However, there is growing evidence that a neighbouring area, the entorhinal cortex, is the first to show signs of Alzheimer's disease pathology. The entorhinal cortex is thought to help us navigate our surroundings with the help of specialized nerve cells in the brain, called grid cells. If Alzheimer's disease pathology first impacts the entorhinal cortex and entorhinal grid cells support navigation, then it follows that a diagnostic cognitive test for Alzheimer's disease would benefit from being based on the specialised navigation function of entorhinal grid cells.
The ability to diagnosis adverse changes to brain health 15-20 years before neurodegenerative disease can not only shape strategies taken to prevent cognitive and motor decline but also utilise disease-modifying therapies being developed that will be most effective in the pre-clinical stages of the disease. This is crucial given that the various costs related to dementia in Australia are estimated to reach $1 trillion over the next four decades.
To generate awareness about this project, members of the Tasmanian public will have the opportunity to meet the researchers and have a go at walking around virtual environments using a VR-headset at the upcoming Dementia, Prevention and Well-being Expo in Hobart on Thursday 28 April.
Project team:
Dr Maneesh Kuruvilla (Wicking Dementia Centre)
Dr Matthew Kirkcaldie (Wicking Dementia Centre)
Mr Aidan Bindoff (Wicking Dementia Centre)
Dr Winyu Chinthammit (ICT)
Dr Mira Park (ICT)
Dr Soonja Yeom (ICT)
Ms Yuan Tian (ICT)