New resources & current trials
---
Current trials
---
Britannica Academic delivers fast and easy access to high quality, comprehensive information.
The rich combination of the venerable Encyclopaedia Britannica, academic magazines and periodicals provides the variety of reliable resources designed to meet the research and productivity requirements of colleges and academic libraries. Access Username and Passwords here.
Feedback welcome, please email us library.resources@utas.edu.au with your thoughts, comments, etc.
Trial ends: 27th March 2019.
---
BMJ Best Practice takes you quickly and accurately to the latest evidence-based information, whenever and wherever you need it. Our step by step guidance on diagnosis, prognosis, treatment and prevention is updated daily using robust evidence based methodology and expert opinion.
Access instructions:
Go to bestpractice.bmj.com for instant access. To access additional benefits such as the mobile app, and CME/CPD tracking, register for a personal account (please note, this is a personal sign on, not your UTas sign on) via the pop up box that appears on your first visit to the website.
Download the app:
Access to the iOS/Android app is included in the trial. Follow the instructions above to create your own personal account. Next, search for ''BMJ Best Practice'' in the App Store or Google Play, download the app, and login with your registered email address and password.
User training materials:
Feedback welcome, please email us library.resources@utas.edu.au with your thoughts, comments, etc.
Trial ends: 31st March 2019
---
Computer Science Explorer offers unlimited access to eTextbooks in the Computer Science field. To access: register using your @utas.edu.au email address.



Trial ends: 30th June 2019
---
Benchmark is free daily Bulletin listing of 60 second executive summaries from a choice of today's Decisions of Superior Courts of Australia, published by AR Conolly & Co. Lawyers, Sydney.
---

New resources
---
ClickView provides access to thousands of videos for higher and further education. It contains: Over 2000 video titles from around the world; as well as easy access to current and contextual recordings from 18 Australian free-to-air TV channels. Further information on the streaming subject guide.
---

Medical Journal of Australia is the official journal of the Australian Medical Association. The library now has access to past issues from 1914 to 1997, complimenting the current access from 1996+.
---
All University of Tasmania staff and students now have online access to The Australian and The Mercury.
Visit the newspaper subject guide to set up your account.
Please ensure that you read the terms and conditions prior to subscribing.
---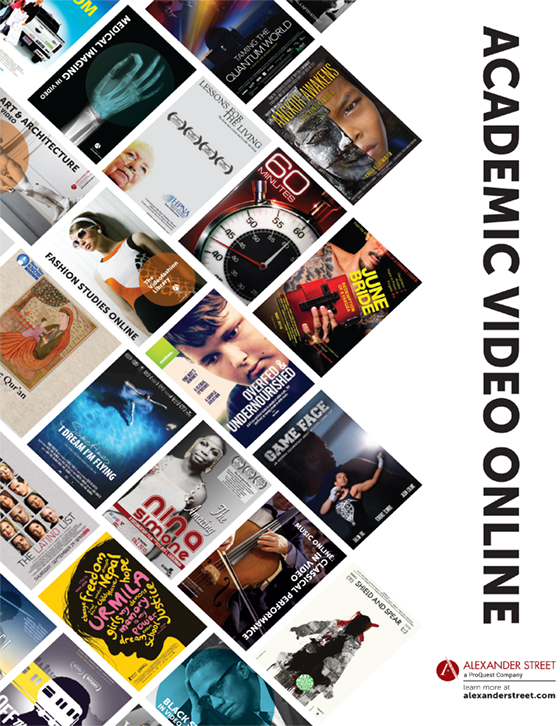 Academic Video Online delivers more than 64,000 titles spanning a wide range of subject areas including anthropology, business, counselling, film, health, history, music, and more. Curated for the educational experience, the depth of content and breadth of content-types (such as documentaries, films, demonstrations, etc.) in Academic Video Online makes it a useful resource for all types of patrons.
---
Over 16,700 films now available to view via Kanopy. Stream the films anytime, anywhere on your preferred devices.